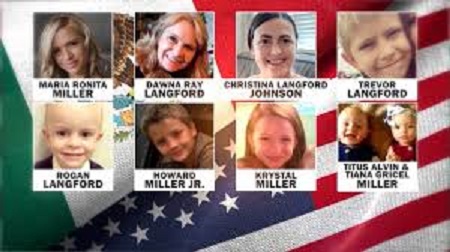 Federal prosecutors in Mexico have arrested a suspect in the killing of nine members of a Mormon community in northern Mexico last year.
Three women and six children, all dual US-Mexican citizens, were driving through the Sonoran desert when they were killed in an ambush.
Mexican security officials said the man, identified only as Roberto N, was a former police officer.
Known as The Mute, he is suspected of being a leader of the La Línea cartel.
La Línea is a faction of the Juárez cartel and engages in arms and drug smuggling between northern Chihuahua state and the United States.
Many of its members are believed to be former police officers who were "bought off" by the Juárez cartel, switched sides and became "enforcers" for the cartel, protecting drug shipments and attacking rival gangs.
Lethal ambush
The victims were part of the LeBarón family, a community which broke away from the mainstream Mormon Church and settled in Mexico nearly a century ago.
The three women and their 14 children were travelling on a remote road between the states of Sonora and Chihuahua when their vehicles were shot at by gunmen on 4 November 2019. Eight of the children survived the attack.
It is unclear why the families were attacked, but one theory is that they were mistaken by La Línea for members of a rival cartel.
Roberto N was captured along with two other men in Nuevo Casa Grandes, a city in Chihuahua state.
Monday's arrest was carried out by federal prosecutors who had worked independently of officials at state level to avoid leaks in the case.
The three detainees have been transferred to the capital, Mexico City, where they are expected to be charged later on Tuesday.
A further two suspects are already in custody in connection with the case.
Source: bbc.co.uk