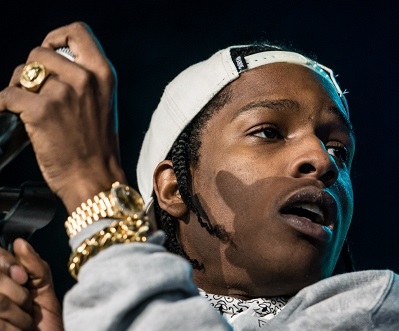 ASAP Rocky has been charged with assault causing actual bodily harm in Sweden and will remain in custody until a trial takes place, prosecutors say.
The rapper, real name Rakim Mayers, was arrested in Stockholm in early July. The two men arrested with him have also been charged with assault.
His arrest followed a fight that was captured on video, with ASAP claiming he had acted in self-defence against men who were following his group.
A date has not yet been set for trial.
The Swedish prosecutor in charge says he decided a crime had been committed – despite claims of self-defence and provocation – after "studying the videos made available to the inquiry".
"It is worth noting that I have had access to a greater amount of material than that which has previously been available on the internet," said Daniel Suneson of the City Public Prosecution Office.
He added that the alleged victim's statement was supported by witness statements.
There were initially two alleged victims in the case, but the prosecutor has dropped one of their cases due to a lack of evidence.
An alleged victim – who was also being investigated on suspicion of abuse, assault, and attempted assault – had his case closed on 22 July.
The rapper's detention in Sweden has attracted the attention of US President Donald Trump, who said he'd spoken to the Swedish Prime Minister after requests to intervene from Kanye West and his wife Kim Kardashian West.
It's led to multiple cancelled festival appearances and threats to boycott Sweden from some of his fellow artists.
The rapper's mum recently pleaded for his release, saying he "isn't really eating properly" and suggesting he's being made an example of.
How it happened
ASAP Rocky has been held in custody since 3 July following an alleged assault which took place on 30 June.
A video published online appears to show him punching another man in the street.
In videos posted to ASAP Rocky's Instagram afterwards, he and the people he's with repeatedly tell a pair of men to stop following them.
One of the men accuses the 30-year-old's team of breaking his headphones.
In the caption for the first video ASAP Rocky writes: "We don't know these guys and we didn't want trouble. They followed us for four blocks."
In the second, he accuses the man of hitting his security guard "in the face with headphones".
The 30-year-old was in Stockholm to perform at Smash festival.
But he's spent the past month at Kronoberg prison while the alleged assault was investigated.
The prison's boss defended conditions at the jail, after claims that walking into Kronoberg prison is like "walking into a toilet".
He told Radio 1 Newsbeat ASAP Rocky was being held in "good conditions".
Swedish prosecutors were twice granted more time to investigate, and had until 25 July to decide whether ASAP Rocky should be charged or released.
When a trial date is set, it is expected to last at least three days.
Source: bbc.co.uk