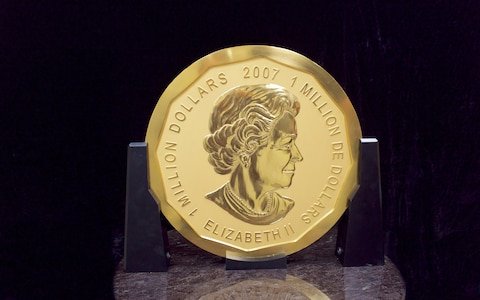 Four men have gone on trial in Berlin, accused of the notorious theft of a huge solid-gold coin from the German capital's Bode Museum in 2017.
The 100kg (220lb) Canadian "Big Maple Leaf" was made of pure 24-carat gold and was worth €3.75m (£3.4m; $4.3m).
The chief suspects on trial, all in their early 20s, are two brothers and a cousin from a Lebanese Berlin family accused of organised crime links.
A ladder, a wheelbarrow and a getaway car were allegedly used in the heist.
Detectives have not recovered the coin, and believe it has been either cut into pieces or melted down and sold.
It was one of just five such coins minted by Canada, and had been donated to the museum by an anonymous collector.
Prosecutors allege that the three chief suspects climbed onto adjacent railway tracks and used a ladder as a bridge to break into the museum through a third-floor window, which was not alarmed.
The men then smashed through a bullet-proof glass case to steal the coin.
They are believed to have used a wheelbarrow and skateboard to roll the coin away before abseiling from the tracks to their getaway vehicle. It was in Monbijou Park, on the other bank of the River Spree.
The suspects were named as brothers Ahmed and Wayci Remmo (20 and 24, respectively) and their cousin Wissam Remmo (21).
A fourth man – 20-year-old Denis W – worked as a security guard at the museum and is accused of having facilitated the heist by advising on locations and security.
The men are on trial in a youth court and are not in detention. If found guilty, they could face up to 10 years in jail. The verdict is expected to come on 28 March.
A defence lawyer told the court that police had presented "not a single shred of evidence" to show that the Remmo men had stolen the coin. The defendants remained silent.
On the night of the break-in security cameras recorded three masked men wearing hoodies near the museum.
Last July police seized 77 houses, apartment blocks and garden allotments owned by the Remmo family. Police suspected that they were bought with the proceeds of crime.
During the gold coin investigation the alleged getaway car was broken into and the inside was sprayed with foam from a fire extinguisher. The apparent attempt to destroy evidence was unsuccessful.
The Big Maple Leaf coin
Minted by the Royal Canadian Mint in 2007, and certified at the time by Guinness World Records as the world's largest gold coin
Five coins were made
3cm (1.18in) thick, 53cm in diameter, and with a likeness of Queen Elizabeth II on one side, as Canada's head of state
The other side shows the Canadian national symbol, the maple leaf
Canadian Mint says: "Why did the Royal Canadian Mint make the world's purest and largest gold bullion coin? Because we can"
Was held in a coin cabinet at the Bode Museum as one of more than 540,000 objects, but German media reported only the "Big Maple Leaf" was stolen
Source: bbc.co.uk