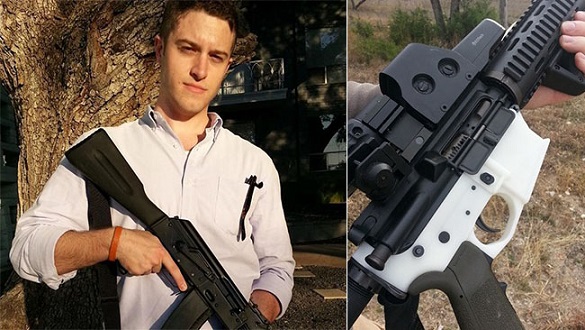 A Texas man who has played a central role in making 3D-printed weapons available has been charged with sexually assaulting an underage girl.
A warrant was issued for Cody Wilson but he flew to Taiwan before he could be detained, police in Austin said.
A 16-year-old girl alleged she was paid $500 (£380) to have sex with Mr Wilson at an Austin hotel, they said.
Mr Wilson has been at the centre of a legal battle over publishing blueprints that instruct people on making a gun.
Mr Wilson has not yet commented on the case and no lawyer has yet issued a statement.
What are the allegations against Mr Wilson?
Austin Police Commander Troy Officer told a press briefing that a counsellor who had spoken to the girl informed police on 22 August that "that a juvenile female under the age of 17 had reported having sexual contact with a 30-year-old male".
The legal age of consent in Texas is 17.
Commander Officer said the girl met Mr Wilson through the sugardaddymeet.com website and had sex with him in a hotel on 15 August.
Police confirmed the girl's story through "videotape and interviews", he said.
The alleged crime is punishable by up to 20 years in prison.
What is the Taiwan connection?
Commander Officer said Mr Wilson had "left the country before we could seek an interview".
He said: "We know Mr Wilson frequently travels for business. We don't know why he went to Taiwan.
"But we do know before he left he was informed by a friend of the victim that she had spoken to police and the police were investigating him for having sex with a minor."
He said that Mr Wilson was not in custody and that he had "missed a scheduled flight back to the United States".
Taiwan's National Immigration Agency said Mr Wilson had arrived on 6 September, Agence France-Presse reported, but that there had been no US request for judicial assistance as yet.
There is no extradition treaty between the United States and Taiwan.
What is Mr Wilson's role in the 3D saga?
Cody Wilson, a self-styled crypto-anarchist, founded the gun access advocacy group Defense Distributed.
He showed off the world's first 3D-printed gun in 2013.
The US government then banned the online posting of blueprints that gave instructions on making the guns.
Mr Wilson launched a legal battle, claiming the ruling infringed his rights to free speech and to bear arms.
The US government this year reached a settlement lifting the ban, but this was then challenged by a number of states.
Last month, a US federal judge in Seattle blocked the release of software that allows consumers to 3D-print firearms.
But Mr Wilson said this ruling applied only to free online distribution and began selling blueprints instead, leading to thousands of downloads.
Source: bbc.co.uk