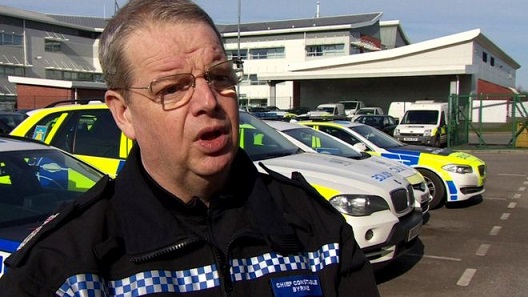 A chief constable who was compared to the Star Wars villain Darth Vader treated junior officers and staff like "roadkill", a misconduct panel heard.
Simon Byrne, who was suspended from Cheshire Constabulary last year, is accused of bullying and humiliating staff between May 2014 and March 2017.
Mr Byrne, 55, denies gross misconduct.
Cheshire police and crime commissioner's barrister John Beggs QC said Mr Byrne knew he had a reputation for being "cruel" and "bullying".
Mr Beggs, representing police and crime commissioner David Keane, questioned whether Mr Byrne was "privately rather pleased" by comparisons between him and Darth Vader.
'Mood swings'
Giving evidence at the hearing in July, Mr Byrne denied the 72 allegations and said he never intended to cause worry or upset.
But the misconduct hearing at Warrington Town Hall was told the police chief was "dysfunctional" and had a "disregard for his subordinates".
"They became roadkill. If they can't keep up, they are dispensed with," Mr Beggs told the panel.
Mr Byrne moved from the Met Police to take up the top job at the Cheshire force in 2014.
The hearing has been told he handed pictures of Dad's Army characters to officers when flooding made him late for work.
He was also accused of having "mood swings" for a fortnight after he was rejected for the job of chief constable of Greater Manchester Police in 2015.
Mr Beggs said the context and repetition of the allegations amounted to gross misconduct.
'Grumpy days'
Gerry Boyle QC, defending Mr Byrne, said the process was "unfair".
He said: "Whilst Mr Byrne may have had flaws, bad days, grumpy days and one or two occasions when impatience perhaps got the better of him, overall as leader he drove Cheshire forward and he succeeded in doing so."
The hearing was told Mr Byrne, whose fixed-term contract has expired, was on the "open labour market" and "the seriousness of a finding of misconduct and the blemish on his character and career would be a devastating blow".
Rachel Crasnow QC, chair of the panel, adjourned proceedings and said a decision and report would be released at a later date.
The panel will make a decision on whether it would have recommended dismissal had he still been in post.