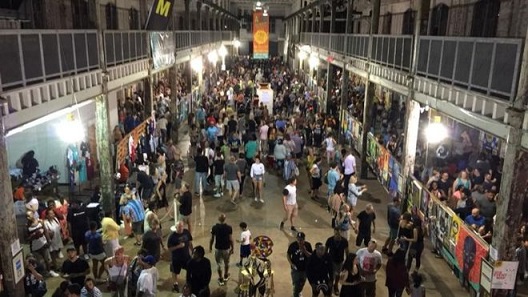 At least 22 people, including a 13-year-old boy, were injured in a gun attack at an all-night arts festival in Trenton, in the US state of New Jersey.
Police say at least two men opened fire at around 03:00 local time (07:00 GMT) as 1,000 people were enjoying the local art, music and food.
One of the suspects, a 33-year-old man, was shot dead and another is in custody, a local prosecutor said.
Four of the injured, including the teenager, are in a critical condition.
Police initially put the injured toll at 20 but raised it after two more victims arrived at local hospitals.
The motive for the attack is not yet clear. Several weapons were said to have been found at the scene.
There are also reports of an attempted carjacking nearby but it is not clear if it was linked to the shooting.
One of the injured, Irving Higginbotham, said he was shot four times.
"Everybody was having a nice time," he told Action News.
"The next thing you know, there were gunshots, got shot in the leg, fell on the ground, and that was it."
Angelo Nicolo was attending the event with his brother. He told US media that they heard loud popping sounds and people started running down the street.
"I saw two police officers escort a guy that got shot in the leg. They bandaged him up and whisked him away," Mr Nicolo said.
This was the 12th year of the Trenton Art All Night Festival, an event that raises money for local artists. It began on Saturday afternoon and was due to run until Sunday afternoon, but has now been cancelled.
The organisers said, on their Facebook page, they were "shocked" and "deeply saddened" by what had happened.
"Our hearts ache and our eyes are blurry but our dedication and resolve to building a better Trenton through community, creativity and inspiration will never fade", they added.
Source: bbc.co.uk