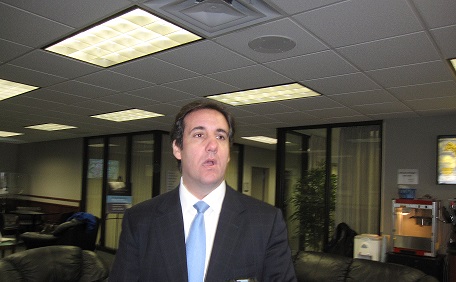 The FBI has raided the offices of Michael Cohen, the long-time personal lawyer for US President Donald Trump.
Law enforcement acted on a "referral" from Special Counsel Robert Mueller, who is investigating suspected Russian meddling in the 2016 election.
Officials in New York seized "privileged communications" between Mr Cohen and his clients, his lawyer said in a statement after the raid.
Documents regarding a payment to a porn actress were also seized, US media say.
Mr Cohen has come under increasing public scrutiny since he admitted to making a $130,000 (£92,000) payment to adult film star Stormy Daniels, whose real name is Stephanie Clifford, just days before the 2016 presidential election.
Ms Daniels claims she had a sexual encounter with Mr Trump shortly after his wife Melania gave birth to their son and says she was paid to keep quiet about the affair.
"Today the US Attorney's Office for the Southern District of New York executed a series of search warrants and seized the privileged communications between my client, Michael Cohen, and his clients," Mr Cohen's lawyer Stephen M Ryan said in a statement.
"I have been advised by federal prosecutors that the New York action is, in part, a referral by the Office of Special Counsel, Robert Mueller."
Mr Ryan called the raid "completely inappropriate and unnecessary".
"It resulted in the unnecessary seizure of protected attorney client communications between a lawyer and his clients. These government tactics are also wrong because Mr Cohen has co-operated completely with all government entities, including providing thousands of non-privileged documents to the Congress and sitting for depositions under oath," the statement said.
Mr Trump, who has denied having an affair with Ms Daniels, said he was unaware of Mr Cohen's payment to her and referred questions to the lawyer.
Mr Mueller reportedly gave the information involving Mr Cohen to Deputy Attorney General Rod Rosenstein, who then referred the matter to the US attorney for the Southern District of New York, according to Bloomberg News.
Justice Department protocol requires Mr Mueller to consult Mr Rosenstein on evidence and subject matter that are beyond his jurisdiction.
What does Ms Daniels allege?
That she met Mr Trump in July 2006 at a charity golf tournament in Lake Tahoe
He later invited her to dinner and she went to meet him in his hotel room
When she arrived, he was "sprawled out on the couch… wearing pyjama pants"
The pair then had sex in the hotel
Mr Trump, she alleges, continues to try to keep the affair quiet
She accepted $130,000 (£92,000) in "hush money" from Mr Cohen prior to the 2016 election
The 2016 non-disclosure agreement is invalid as Mr Trump did not sign it
And what does Trump say?
The president "vehemently denies" Ms Daniels's allegations of an affair
Mr Trump's lawyers are suing her for $20m (£14m), arguing that she has broken the non-disclosure deal on numerous occasions
Mr Cohen has acknowledged paying Ms Daniels privately, but has said neither Mr Trump nor his company were a party to the transaction
Mr Trump has also obtained a restraining order against Ms Daniels to try to prevent her sharing "confidential information" about the alleged affair
A second criminal probe?
Anthony Zurcher, BBC News, Washington
When a president's personal lawyer is the target of a federal law-enforcement raid, it is a Big Deal. How big a deal remains to be seen, but the fact that the move came at the request of the Justice Department's Southern District of New York – after a referral from Special Counsel Robert Mueller's office – could be an indication that Donald Trump's affairs are now relevant to a second criminal probe.
Trump-watchers may recall that the president had fired the former US attorney for the Southern District, Preet Bharara, and was reportedly personally interviewing his replacement. A year later, the office is still under the direction of an interim appointment.
According to the New York Times, FBI agents sought information on payments made relating to Mr Trump's alleged affair with porn star Stormy Daniels and other tax and business dealings. What was once largely a political embarrassment could have metastasised into legal jeopardy.
Mr Cohen's ties to Mr Trump run deep. He's more than just a personal lawyer, he's a friend and fixer. He was already on Mr Mueller's radar for his work for the Trump organisation in Russia. Now the scope of his legal concerns may have dramatically expanded