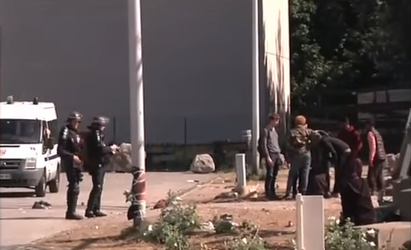 At least five migrants have been shot in the French port city of Calais, after a mass brawl between Afghans and Eritreans.
French news agency AFP reports that four men have been hospitalised in a critical condition, and the fifth in a serious condition.
At least 13 more people were reportedly injured due to "blows from iron bars", the local prosecutor's office said.
It is not yet clear who fired the bullets.
France's interior minister said he would make an urgent visit to the area.
"After today's serious incidents I shall be heading for Calais tonight to take stock of the situation with the prefect, the mayor and local players," Gerard Collomb tweeted.
The initial fight, which lasted almost two hours, broke out on the city's southern outskirts where migrants had been queuing for food handouts.
A second melee then erupted at an industrial site around 5km (three miles) away.
"Police intervened to protect the Afghan migrants faced with 150 to 200 Eritrean migrants," the local prefecture said.
Members of the French security forces have been sent to the area.
Though the Calais migrant camp known as the Jungle was demolished in 2016, hundreds of migrants are still living rough in the nearby woods, hoping to reach the UK.
Many of those left are young men.
Local charities put the number of such migrants living in Calais at around 800, while the authorities say there are between 550 and 600.
Source: bbc.co.uk