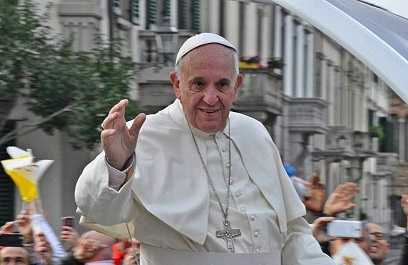 Pope Francis has triggered anger in Chile after accusing victims of a paedophile priest of slander.
Francis said there was "no proof" for their claims that abuse by Father Fernando Karadima had been covered up by another man, Bishop Juan Barros.
"There is not one single piece of proof against him (Bishop Barros). It is all slander. Is that clear?" the Pope said.
One Karadima victim said the Pope's earlier plea for forgiveness over clerical sex abuse was "empty".
The Pope made his comments on Thursday before celebrating Mass outside the city of Iquique in northern Chile.
"The day someone brings me proof against Bishop Barros, then I will talk," the Pope told journalists.
Juan Carlos Cruz was one of the bishop's accusers who was quick to condemn the Pope's stance.
"As if I could have taken a selfie or photo while Karadima abused me and others with Juan Barros standing next to him watching everything," he tweeted.
"These people are absolutely crazy, and @Pontifex (the Pope's Twitter handle) is talking about reparation to the victims. Nothing has changed, and his plea for forgiveness is empty."
Another Barros accuser, James Hamilton, told a news conference the response revealed an "unknown face" of the pontiff.
"What the Pope has done today is offensive and painful, and not only against us, but against everyone seeking to end the abuses," he said.
Earlier in his Chile trip, Francis had met victims of sexual abuse by priests in the country. He cried with them and said he felt "pain and shame" over the scandal.
The US-based NGO Bishop Accountability says almost 80 members of Catholic clergy have been accused of child sex abuse in Chile since 2000.
The Church suffered a body blow in Chile in 2010 when Father Karadima was publicly accused of molesting several teenaged boys in the capital, Santiago, starting in the 1980s.
Mr Cruz claims Bishop Barros was present when Father Karadima – then the bishop's mentor – kissed and groped him and another boy.
While Bishop Barros has not been accused of abuse, the Pope has been criticised for appointing him bishop of Osorno in 2015. Barros's ordination ceremony had to be cut short over protests in the cathedral.
Father Karadima was found guilty by the Vatican of abusing teenage boys in 2011 and sentenced to a lifetime of "penance and prayer".
He never faced criminal prosecution in Chile as too much time had passed, but the judge who heard victims' testimony in a year-long investigation described them as "truthful and reliable".
Pope Francis arrived in Peru late on Thursday for a three-day visit which will conclude his two-nation South America trip.
Source: bbc.co.uk