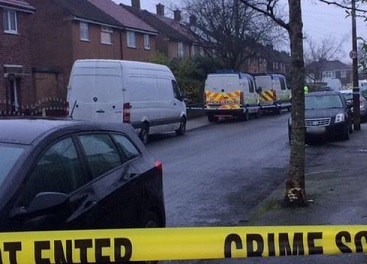 A man whose body was found buried in a garden was allegedly killed by his daughter years ago, the BBC understands.
Greater Manchester Police said a woman made a confession at Cheadle Heath police station on Sunday.
On Tuesday, remains of a male, believed to be Kenneth Coombes, were found in a garden in Matlock Road, Reddish, near Stockport.
A 63-year-old woman has been arrested on suspicion of murder.
A police spokesman said the man had not been formally identified but his family had been informed and was being supported by specially trained officers.
He said it was "still very early days in our investigation" and thanked the public "so far for their support".
The cordon on this quiet suburban street in Reddish has now been extended a second time this morning by police.
Part of the road has been shut and the cordon is 200ft as police continue the search of the crime scene after the grim discovery of human remains on Tuesday.
Officers have worked through the night with much of the work focusing on the rear end of the garden.
Workmen at the property next door have been told they cannot work today as the search continues.
Door-to-door inquiries have been conducted on Matlock Road, with residents being asked if they know a man called Kenneth Coombes.
The questionnaire suggests Mr Coombes was in his late 80s in 2005.
A man by the same name, who was recorded as living on the street, would have been 99 years old today.
Yvonne Harrison, who lives a few doors away from the crime scene, spoke of her "horror" about a body being found in a neighbouring garden.
"It's really shocking and very strange," she said.
Source: bbc.co.uk