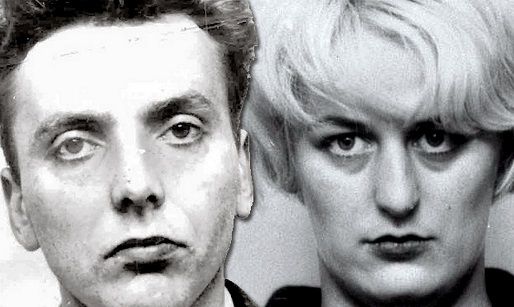 The ashes of Moors Murderer Ian Brady have been disposed of at sea in the middle of the night after a cremation last week, it has been revealed.
The child killer, who died in May aged 79, was cremated without ceremony.
It comes after a court ruling to ensure the disposal of his body did not cause "offence and distress" to his victims' families.
Brady, along with Myra Hindley, tortured and murdered five children in the 1960s. She died in prison in 2002.
Brady's body was collected from Royal Liverpool Hospital's mortuary by a council official at about 21:00 BST on 25 October, documents show.
Under police escort, the corpse was taken to Southport Crematorium where the cremation began at 22:00 BST, with no music or flowers allowed.
Brady's ashes were then placed in a weighted biodegradable urn, driven to Liverpool Marina and dispatched at sea at 02:30 BST.
It was reported that Brady wished to have his remains burnt and ashes scattered in Glasgow, where he grew up. But the city's council said it would refuse any request for Brady to be cremated in the area.
There were also concerns his remains would be scattered on Saddleworth Moor in Greater Manchester – where the pair buried at least three of their victims.
Brady's executor Robin Makin had said there was "no likelihood" of this happening, but the High Court ruled in October that the disposal of the body should be taken out of his hands.
The killer died at Ashworth High Security Hospital in Maghull, Merseyside, having been held there since 1985.
He and partner Hindley were convicted of luring children and teenagers to their deaths, with most of their victims buried on Saddleworth Moor, Oldham.
He was jailed in 1966 for murdering John Kilbride, aged 12, Lesley Ann Downey, 10, and Edward Evans, 17.
In 1985, he also admitted killing Pauline Reade, 16, and 12-year-old Keith Bennett, whose body is believed to be on the Moor but has never been found.
Despite pleas from Keith's mother Winnie Johnson, who died in 2012, Brady did not reveal where her son was buried.
John Kilbride's brother Terry said the victims' families knew in advance what would happen to Brady's remains.
"The urn was made of salt and it disintegrated after about 10 or 15 minutes of being in the water," he said.
"I was originally under the impression he was just going to be burnt and put in the grounds of a prison but being put in the sea is the next best thing.
"This was the only way to really put the families at ease and the public as well."
Mr Kilbride described Brady as "clever and manipulative", saying he "tormented" families from his prison cell.
"[When] he always seemed to come up on TV or in the papers, it was always around an anniversary or Christmas.
"He actually died on John's birthday, May 15. You can imagine how that feels," he added.
An inquest into Brady's death heard he died of natural causes.
In a statement, Tameside and Oldham councils said: "We are pleased that this matter is now concluded and we are grateful for the support and professionalism shown… to ensure Ian Stewart-Brady's body and remains were disposed of expediently at sea in a manner compatible with the public interest and those of the victim's relatives."
Source: bbc.co.uk