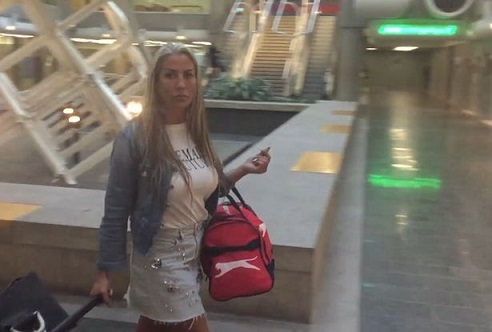 A drunken airline passenger jailed in Canada this week will face a drink-driving charge when she gets out of jail.
Bridget Hanley, from north Manchester, was sentenced to 20 days behind bars after attacking a fellow passenger and TUI crew member mid-air on a flight to Cancun, Mexico.
Pilots were forced to make an emergency landing in Quebec City, and the 34-year-old was arrested by local police.
She faced charges of 'disturbing the peace, mischief, and jeopardising the safety of an aircraft', following the incident on Sunday.
Hanley, of Blackley, a suburb of Manchester in the UK, pleaded guilty in court and will serve the time in a provincial detention facility in the Québec City region.
It's since been revealed that once she has completed her 20-day sentence, she will be handed over to police in Ontario – another Canadian province – where she is wanted for unrelated outstanding charges, including driving while her ability was impaired, failing or refusing to provide sample and failing to re-attend court.
A spokesman for the Halton Regional Police Service confirmed the offences were alleged to have taken place in June of this year.
After landing in Quebec, Hanley was detained by Sûreté du Québec, the predominantly French-speaking province's police department, who formally named Ms Hanley and confirmed the outcome of the court hearing to the M.E.N.
They said that the airline also intends to file a civil lawsuit against her.
It's understood passengers – including a former rugby player and a police officer – helped to detain Hanley following the outburst.
They sat with her until the flight landed in Quebec, where she was handed over to Sûreté du Québec.
A statement from the force following the incident read: "Our major Crimes Division is investigating a case whereby the passenger of an international flight was causing a disturbance on board, forcing the pilot to land in Quebec City.
"The-34-year-old woman was arrested and will appear in Québec Superior court this morning. She may be facing charges of disturbing the peace, mischief and jeopardising the safety of an aircraft.
"During the flight this individual was under the influence of alcohol and involved in an altercation with another passenger as well as a flight-crew member. However no one was injured during this incident."
TUI apologised to customers, saying that the safety of customers and crew is a priority at all times and that it operates a zero tolerance policy on any behaviour of this kind.