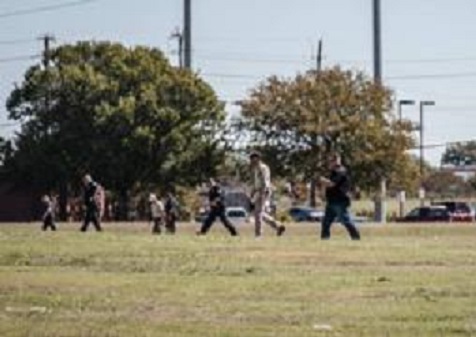 Police in Texas say they have found a body while investigating a case of a three-year-old who went missing earlier this month when her father sent her out of their home at 03:00 as punishment.
The Richardson police department told reporters the body was "most likely" of Sherin Mathews, whose disappearance made headlines in Dallas and India.
The Indian-origin couple adopted Sherin two years ago from an Indian orphanage.
The police have not given any details of how she may have died.
The body was found in a tunnel about half a mile from her home on Sunday. The area is being "treated as a crime scene", police said.
The Press Trust of India news agency reported that an identification process was under way, but police said they had "no reason" to believe the body was of any other child.
Her father, Wesley Mathews, was arrested and released on bail after admitting to endangering her life after sending her out of the home at 03:00 because she had refused to finish her milk.
Her mother was reportedly asleep when the incident took place.
The couple have another four-year-old daughter, who has been placed in foster care after the incident.
Mr Mathews told the police that his daughter, who had developmental disabilities and limited vocabulary skills, had to be fed often as she was severely malnourished, and he had acted out of "frustration".
He said he had found she was missing after going to check on her 15 minutes later. He told the police he had returned to the house and "did a load of laundry" as he was not too worried.
He reported the disappearance only after sunrise.
Police had previously told reporters that both the parents had "stopped co-operating" with the investigation, although the mother has not been charged.
Source: bbc.co.uk