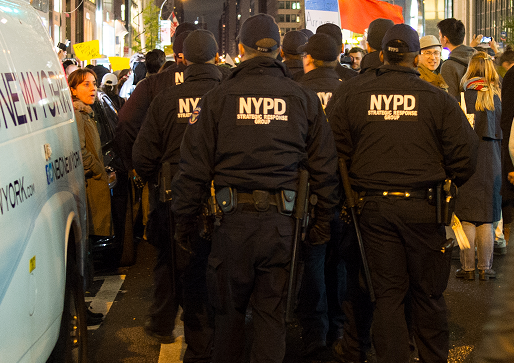 A jihadist plot to attack New York City including Times Square and the subway system was foiled with the help of an undercover FBI agent, officials say.
One man in the US and two others in Pakistan and the Philippines are under arrest and face charges of plotting the attacks which they hoped to carry out in the name of the Islamic State group.
One of the suspects allegedly said he wanted to create "the next 9/11".
The trio allegedly used chat apps to plan their attack.
It was prevented last year with the help of an undercover FBI agent – posing as an IS supporter – who communicated with the three plotters. Details of the alleged plot were released on Friday as prosecutors revealed the charges.
Police on Friday announced charges against Abdulrahman El Bahnasawy, 19, a Canadian citizen detained in New York; Talha Haroon, also 19, a US citizen based in Pakistan and Russell Salic, 37, from the Philippines.
El Bahnasawy was arrested in May 2016 and pleaded guilty last October to seven terror-related charges. He is awaiting his sentence.
Haroon was arrested in Pakistan in September 2016, while Salic was arrested in the Philippines the following April. Both men are due to be extradited to the US.
"The planned attacks included detonating bombs in Times Square and the New York City subway system and shooting civilians at specific concert venues," a Department of Justice statement said.
The trio hoped to carry out the attacks during the Muslim holy fasting month of Ramadan in 2016, inspired by an attack the previous year on the Bataclan concert hall in Paris and by an attack on the metro in Belgium.
Abdulrahman El Bahnasawy: is alleged to have sent the undercover FBI agent an image of Times Square, saying that "we seriously need a car bomb" to attack it. He allegedly wanted to "create the next 9/11"
Talha Haroon: is alleged to have told the agent that the subway would be a "perfect" target, and that suicide vests could be detonated after their ammunition was used up
Russell Salic: known as "the doctor", he is accused of sending "approximately $423" to finance the attacks with the promise to supply more cash
New York was the target of the 11 September 2001 attacks that killed nearly 3,000 people and led to President George W Bush's "war on terror"- which included the invasions of Afghanistan and Iraq.
There was an attempted car bomb attack in Times Square in 2010 – for which Faisal Shahzad was sentenced to life in prison after the petrol and fertiliser device he planted failed to go off.
The Pakistani-born US citizen was described by prosecutors as a "remorseless terrorist".
Source: bbc.co.uk