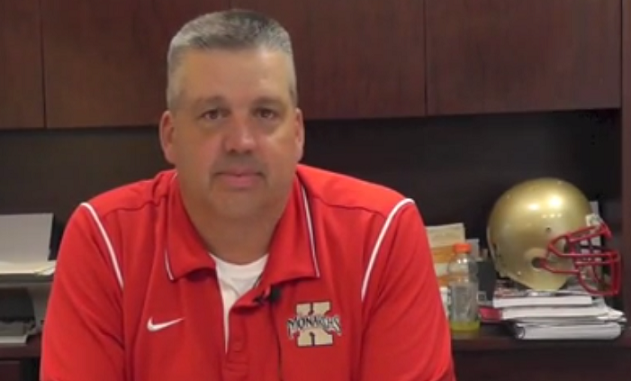 Pennsylvania-based King's College and head football coach Jeffery Knarr are being sued for copyright infringement. Sports psychologist and author Dr. Keith Bell alleges that both committed offenses when Knarr retweeted a page from his book, that was initially tweeted by someone else, almost two years ago.
When copyright infringement lawsuits hit the US courts, there's often a serious case at hand. Whether that's the sharing of a leaked movie online or indeed the mass infringement that allegedly took place on Megaupload, there's usually something quite meaty to discuss.
A lawsuit filed this week in a Pennsylvania federal court certainly provides the later, but without managing to be much more than a fairly trivial matter in the first instance.
The case was filed by sports psychologist and author Dr. Keith Bell. It begins by describing Bell as an "internationally recognized performance consultant" who has worked with 500 teams, including the Olympic and national teams for the United States, Canada, Australia, New Zealand, Hong Kong, Fiji, and the Cayman Islands.
Bell is further described as a successful speaker, athlete and coach; "A four-time collegiate All-American swimmer, a holder of numerous world and national masters swim records, and has coached several collegiate, high school, and private swim teams to competitive success."
At the heart of the lawsuit is a book that Bell published in 1982, entitled Winning Isn't Normal.
"The book has enjoyed substantial acclaim, distribution and publicity. Dr. Bell is the sole author of this work, and continues to own all rights in the work," the lawsuit (pdf) reads.
Bell claims that on or about November 6, 2015, King's College head football coach Jeffery Knarr retweeted a tweet that was initially posted from @NSUBaseball32, a Twitter account operated by Northeastern State University's RiverHawks baseball team. The retweet, as shown in the lawsuit, can be seen below.
The retweet that sparked the lawsuit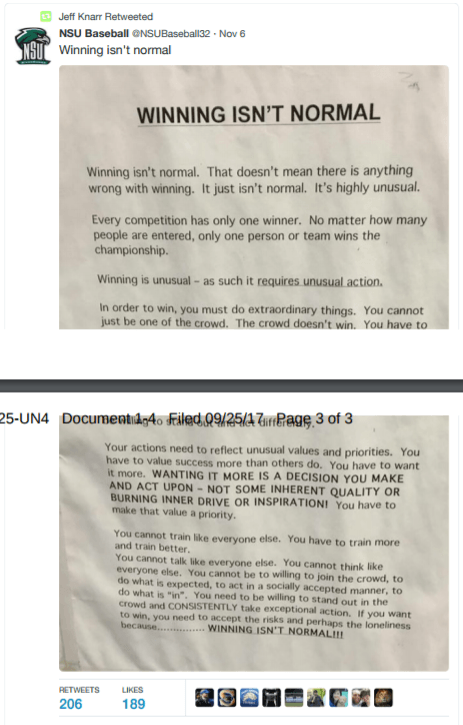 "The post was made without authorization from Dr. Bell and without attribution to Dr. Bell," the lawsuit reads.
"Neither Defendant King's College nor Defendant Jeffery Knarr contacted Dr. Bell to request permission to use Dr. Bell's copyrighted work. As of November 14, 2015, the post had received 206 'Retweets' and 189 'Likes.' Due to the globally accessible nature of Twitter, the post was accessible by Internet users across the world."
Bell says he sent a cease and desist letter to NSU in September 2016 and shortly thereafter NSU removed the post, which removed the retweets. However, this meant that Knarr's retweet had been online for "at least" 10 months and 21 days.
To put the icing on the cake, Bell also holds the trademark to the phrase "Winning Isn't Normal", so he's suing Knarr and his King's College employer for trademark infringement too.
"The Defendants included Plaintiff's trademark twice in the Twitter post. The first instance was as the title of the post, with the mark shown in letters which were emphasized by being capitalized, bold, and underlined," the lawsuit notes.
"The second instance was at the end of the post, with the mark shown in letters which were emphasized by being capitalized, bold, underlined, and followed by three exclamation points."
Describing what appears to be a casual retweet as "willful, intentional and purposeful" infringement carried out "in disregard of and with indifference to Plaintiff's rights," Bell demands damages and attorneys fees from Knarr and his employer.
"As a direct and proximate result of said infringement by Defendants, Plaintiff is entitled to damages in an amount to be proven at trial," the lawsuit concludes.
Since the page from the book retweeted by Knarr is a small portion of the overall work, there may be a fair use defense. Nevertheless, defending this kind of suit is never cheap, so it's probably fair to say there will already be a considerable amount of regret among the defendants at ever having set eyes on Bell's 35-year-old book.
Source:  
TorrentFreak.com