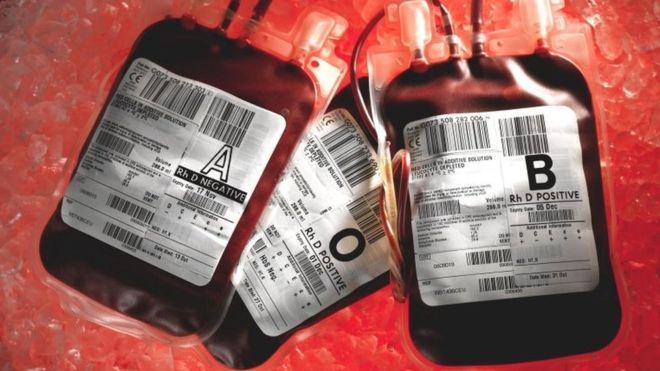 Victims of the contaminated blood scandal in the 1970s and 1980s have won a ruling allowing them to launch a High Court action to seek damages.
An official of the court said it was "appropriate" to issue an order allowing a potential 500 claimants – surviving victims and families of the deceased – to seek compensation.  Thousands of NHS patients were given blood products from abroad that were infected with hepatitis C and HIV.   At least 2,400 people died.
In July, Prime Minister Theresa May announced a UK-wide inquiry into the scandal, which has been called the worst treatment disaster in the history of the NHS.
Many of those affected believe recipients were not told of the risks involved and there was a cover-up.
Lawyers acting for the Department of Health, which is named as a defendant in the case, argued the court application was "premature".  They said there was no need for legal action because there was a public inquiry pending.
The BBC's health editor Hugh Pym said the ruling was "the beginning of a long process".
Ahead of Tuesday's hearing, Des Collins, from Collins Solicitors, which represents one of the campaign groups involved, Factor 8, said the public inquiry had "at last indicated some willingness on the part of government to address the claimant's concerns".
"Against this background it is regrettable that the secretary of state (for health) has not chosen to do so in these civil proceedings," he said.
"We welcome this opportunity to present the claimant's case to the court for the first time in over 25 years."
---
What is the contaminated blood scandal?
A recent parliamentary report found about 7,500 patients were infected by imported blood products.
Many were patients with an inherited bleeding disorder called haemophilia.
They needed regular treatment with a clotting agent Factor VIII, which is made from donated blood.
The UK imported supplies and some turned out to be infected. Much of the plasma used to make Factor VIII came from donors like prison inmates in the US, who sold their blood.
Jason Evans was just four years old when his father Jonathan, a haemophiliac, died after being infected with HIV through contaminated Factor VIII treatment.
Jason recently discovered that in late 1984 his father had raised concerns with his doctors about Factor VIII, but he says he was told "there was nothing to worry about, this is sensationalism and not to pay attention to it. And he trusted his doctor."
---
Families of those who died are being consulted about what form the inquiry should take.  It could be a public Hillsborough-style inquiry or a judge-led statutory inquiry.
Source bbc