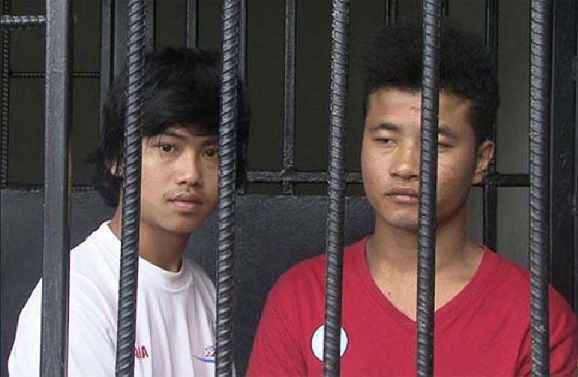 The National Crime Agency (NCA) has admitted unlawfully handing information to Thai police investigating the murders of two British backpackers.
Zaw Lin and Wai Phyo were found guilty of killing Hannah Witheridge and David Miller on a Koh Tao beach in 2014.
In the High Court the NCA admitted illegally disclosing phone data and intelligence in a breach of government rules.
Lin and Phyo say they were tortured into confessing.
Law firm Leigh Day acting for Lin and Phyo, from Myanmar, brought the High Court case, which has been supported by human rights campaigners Reprieve.
The NCA admitted five instances of providing assistance to Thai police, relating to phone data and intelligence, which was "not in accordance" with official government guidance and therefore unlawful.
It also admitted not consulting with the government or agency directors and instead having an "informal conversation" with a diplomat in Bangkok about "generic death penalty risks".
Reprieve said the NCA "secretly handed over evidence" that helped secure death sentences in a country known for unfair trials and torture.
It added that data which pointed to other suspects was not shared with the pair's defence team.
Lin and Phyo, ,who were found guilty in 2015, face execution by lethal injection and have lodged their final appeal.
Reprieve said the trial was "marred by widespread allegations of corruption".
The High Court has ordered the NCA to pay £15,000 to cover the defendants' court costs.
An NCA spokesman said the agency had acted in "good faith" and conducted a review to ensure official guidance was complied with in the future.
"We accept the sharing of some intelligence with the Royal Thai Police in the immediate aftermath of the murders to assist their investigation was not in accordance with HM Government's Overseas Security and Justice Assistance (OSJA) guidance," he said.
Source: bbc.co.uk