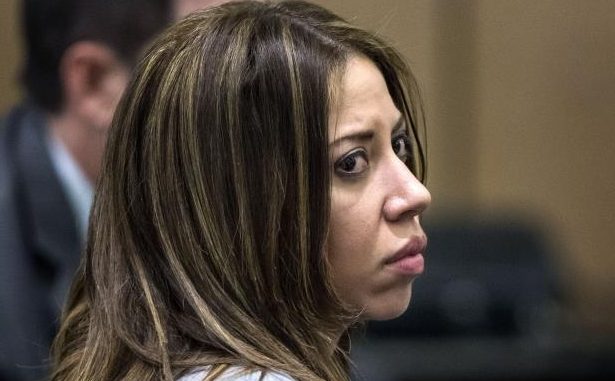 Palm Beach County Judge Glenn Kelley denied a request from the Boynton Beach woman's attorneys for an appellate bond while she appeals her 16-year prison sentence for hiring an undercover police officer, who was posing as a hit man, to kill her husband.
Dippolito, 34, was convicted in June of solicitation to commit first-degree murder. It was her third murder-for-hire trial.
Defense attorneys sought relief for Dippolito while the Fourth District Court of Appeal considers their argument for a new trial. They claim that a juror was sleeping during crucial testimony in Dippolito's most recent trial.
However, Kelley dismissed the argument, saying that he didn't observe the juror to be sleeping and concluded that her removal wasn't necessary.
The judge also chastised the defense's courtroom tactics.
"During the course of the litigation it became abundantly clear that a significant aspect of the defense strategy in this case was to create error for appellate purposes," Kelley wrote in Wednesday's motion. "Whether the defense was successful in this strategy will obviously await appellate review. The defense, essentially, objected to everything."
Kelley said there were more than 100 bench conferences during the last trial.
"Some of these objections had merit, some did not and some — candidly — bordered on the frivolous," Kelley wrote.
Assistant state attorney Craig Williams objected to an appellate bond. He said Dippolito was a flight risk and cited a July 8 recorded jail conversation that she had with an apparent lover about a recent prison break.
"Shortly after the verdict, the defendant can be heard on tape enthusiastically discussing a recent case of how an inmate broke out of a maximum security prison using wire cutters that were delivered to him via drone," Williams wrote in a recent court document.
The recorded call was obtained by Local 10 News.
Kelley wrote that the evidence during trial demonstrated a pattern of behavior by Dippolito "that can only be characterized as a disregard for the law." He cited Dippolito's actions in the months before she recruited someone to have her husband killed, which included planting drugs in his car and trying to frame him for a violation of his probation.
"This activity demonstrates that the defendant will violate the law to obtain a desired result," Kelley wrote.
Kelley also discussed Dippolito's decision to have a child while on house arrest between her second and third trials.
"To be clear, the court does not seek in any way to punish the defendant for having a child," Kelley wrote. "However, the defendant's change in family circumstance must be considered in assessing the temptation for flight."
Kelley said Dippolito's desire to be with her 1-year-old son "increases the risk of flight."
"The defendant is facing a prison sentence which may separate her from her son for his entire childhood," Kelley wrote.
Kelley also concluded that the random jail call in which the South Carolina prison break was randomly discussed "could certainly be characterized as odd," he said it can't be inferred that flight is likely. However, Kelley said the relationship between Dippolito and the man is relevant.
"The state correctly argues that there is evidence that the defendant has a history of manipulating men," Kelley wrote.
Dippolito was found guilty of hiring an undercover police detective, whom she thought was a hit man, to kill her then-husband in 2009, saying that she was "5,000 percent sure" she wanted him dead. The Boynton Beach Police Department staged a phony crime scene on the day that Dippolito's husband was supposed to be killed and recorded her reaction.
Her 2011 conviction and 20-year sentence were thrown out on appeal. Last year's trial ended with a 3-3 hung jury.
Dippolito gave birth to a son while she was out of jail on house arrest between the second and third trials.
If attorneys successfully appeal the guilty verdict, Dippolito would get a fourth trial.
Source:  local10.com