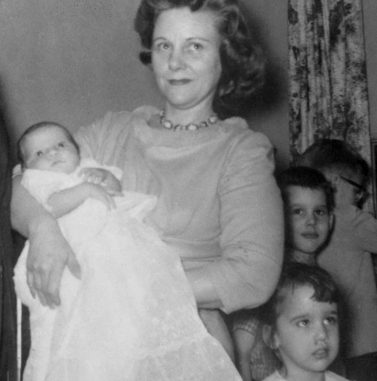 Today marks the 92nd birthday of Viola Gregg Liuzzo, the only known white woman killed during the Civil Rights Movement. Liuzzo has a special place in American history, but it was a long, hard road for her to receive formal recognition for her sacrifice.
By the time Viola Gregg Liuzzo decided to slip away from her Detroit home to participate in the Civil Rights March in Selma, Alabama, she was juggling many roles. The year was 1965. Liuzzo was 39 and a part-time nursing student at Wayne State University and a local member of the NAACP. She was also remarried and a mother of five. She had all reason to attend to life's responsibilities, but she couldn't look away from the social injustices she was seeing around her.
Deeply disturbed by the event known as "Bloody Sunday," in which Civil Rights demonstrators were beaten and gassed by police in Selma on March 7, 1965, Liuzzo was inspired by Martin Luther King Jr.'s plea for Americans to continue the march with him in Selma to support the federal voting-rights bill. Twenty-five thousand Americans were moved to action, and Liuzzo was among them.
Knowing her husband would try to stop her from going, Liuzzo secretly took off for Alabama but kept in touch with her family by phone. For days, she helped transport marchers between Montgomery to Selma, but on the evening of March 25, her fate would change. Driving to Montgomery to pick up one last group, Liuzzo and fellow passenger Leroy Moton, a 19-year-old local black activist, suddenly realized they were being followed by four members of the Ku Klux Klan. A high-speed chase ensued. The Klansmen drove up alongside Liuzzo's car and fired bullets, killing her immediately. Moton survived by pretending to be dead.
The four Klansmen were arrested for Liuzzo's murder but would be acquitted by a jury consisting of all white males. Three of them, however, would be convicted in federal court, while the fourth would be given immunity since he would later be discovered as a paid FBI informant. (This discovery placed the FBI in a precarious position.)
While Liuzzo was being celebrated as a martyr, FBI director J. Edgar Hoover feared his agency would be blamed for her death. As a diversion, he embarked on a campaign to denigrate her character, falsely alleging she was an irresponsible wife and mother who had affairs with black men and took drugs.
Despite Hoover's attempts to malign Liuzzo's character, President Lyndon Johnson was moved by her death and took legislative strides to protect civil rights activists. Among his efforts, he signed the Voting Rights Acts of 1965 into law and also placed the Ku Klux Klan under federal investigation.
Liuzzo's activism defied cultural and social boundaries, and her death inspired a national discussion on white America's role in fighting for black civil liberties, as well as how women should view their responsibilities towards their families vs. society.
Although it would take over two decades, Viola Gregg Liuzzo would finally receive formal recognition for her bravery. In 1989 she was among 40 martyrs who were honored at the Civil Rights Memorial in Montgomery. Two years later a stone marker was erected on the Alabama highway where she was murdered as a reminder of her sacrifice. More recently, Wayne State University, where she had been enrolled as a part-time student, awarded her a posthumous honorary doctor of laws degree in 2015, the first the university has ever bestowed in its almost 150 year history.
Source:  biography.com