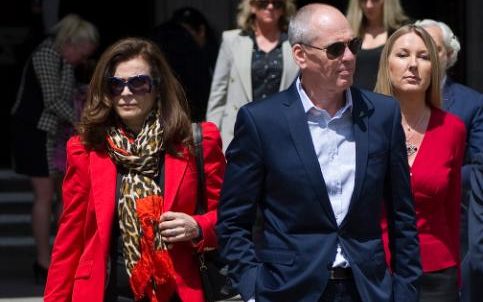 A former gangster kingpin has lost his appeal over how much he has to pay back from his days of crime after telling judges he felt "like a ponce".
Terry Adams was ordered to hand over money made from ill gotten gains in 2007, but the notorious crime boss claimed he had insufficient funds and still owes the crown £651,611.
Adams argued that he was so destitute that he felt "like a ponce" living off his actress wife Ruth and denied having hidden assets that were funding a lavish lifestyle.
A confiscation order of £750,000 was imposed in 2007 after he was jailed for seven years for conspiracy to conceal the proceeds of crime through money-laundering.
An earlier application was rejected in August 2014, when more than £650,000 was still outstanding.
The order is still incurring interest and now stands at more than £700,000.
On Monday, Lord Justice Longmore, Lord Justice Hamblen and Lord Justice Irwin in the Court of Appeal upheld the High Court decision.
The Crown Prosecution Service (CPS) opposed his application, saying there was a strong case that Adams possessed "substantial undisclosed assets".
The judge said she was not satisfied that Adams had provided "full and candid disclosure".
By January 2012, any identified lawful funds from the sale of their former home were exhausted yet the couple carried on an expensive lifestyle.
Adams described as "laughable" CPS claims they had an annual expenditure of £97,000.
He denied he was using his wife, family and associates to create a sham income and loans to pay for visits to the opera and top restaurants, spa memberships and treatment at private clinics.
His counsel, Ivan Krolick, told the Court of Appeal the judge got it wrong against the weight of the evidence while Kennedy Talbot QC, for the CPS, said her decision was "fully justified".
They concluded the judge's finding on the evidence that Adams had an undisclosed reserve of funds involved no arguable error of law and was by no means unreasonable.
They rejected the criticisms made of the judge's treatment of the evidence.
"The finding that Mr Adams had not discharged the burden of proof upon him was neither unreasonable nor against the weight of the evidence," said Lord Justice Hamblen.
By  Rozina Sabur
Source www.telegraph.co.uk