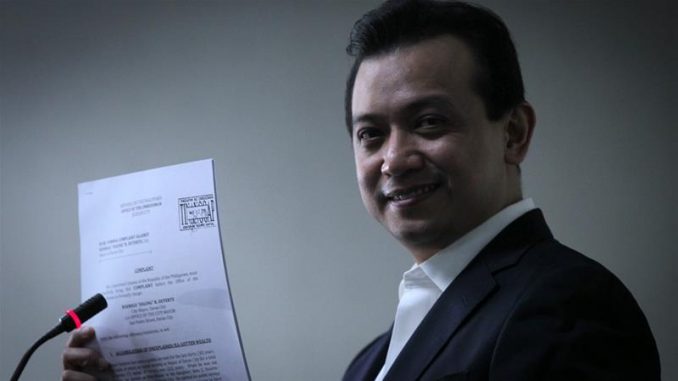 PHILLIPINES –
An opposition senator has called on Philippine President Rodrigo Duterte to publicly release details of bank accounts belonging to himself and family members in order to disprove allegations he had hidden deposits worth millions of dollars.
Senator Antonio Trillanes IV told a news conference on Thursday that he was raising the issue once again, because Duterte has not yet disclosed details of an estimated $44m he allegedly kept in bank accounts as a former mayor of Davao City.
Trillanes, a former military officer, first alleged that Duterte had unexplained wealth during the presidential campaign in 2016, adding that the current president failed to declare the deposits as required by law.
Trillanes, one of Duterte's harshest critics and a navy officer once detained for a failed coup plot against a former president, said he would resign if Duterte can disprove the allegations.
"I know he will not release and he will not accept my challenge because it will be proven that he is really a corrupt official," Trillanes said.
He also showed reporters transaction records of bank accounts belonging to his three adult children with his first wife, as well as that of his common-law wife, Cielito Salvador Avancena.
Between 2003 to to 2016, Duterte's three children also reportedly received an estimated $7.5m in deposits, while Avancena received $3.8m in deposits from July 2004 to March 2016.
Trillanes also revealed that the Duterte family received $2.4m from a Davao City businessman, who also contributed more than $600,000 to Duterte's campaign.
'Desperate' claim
Presidential spokesman Ernesto Abella said Duterte would not release those bank details "in response to grandstanding" but suggested the president may do so as part of a legal process.
Duterte, who took office last June, has denied amassing ill-gotten wealth.
Trillane's partymate Senator Alan Peter Cayetano, who ran as Duterte's vice presidential candidate, criticised the report as "desperate attempt to stop the reforms" of the president, according to Rappler News.
During the campaign in May, Trillanes released documents he said were handed to him by a concerned citizen purportedly showing more than $40m flowed into Duterte's various bank accounts from 2006 to 2015, representing alleged unexplained wealth the mayor failed to declare as required by law.
Trillanes and Duterte's lawyer then went to a branch of the Bank of the Philippines Islands, where Duterte and his daughter allegedly had an undeclared deposit of more than $4m in a joint account.
Lawyer Salvador Panelo said Duterte had authorised him to request the bank to open the account but that bank officials told him it would take seven days to study the request.
Trillanes said the account has not been opened to scrutiny.
At that time, Duterte acknowledged he had around $4m in one bank account in Manila, but did not file a government declaration because he "already spent it".
He also said the deposits were "birthday gifts".
Duterte has projected himself as a politician who rose from poverty, and still lives a modest life in a rundown house in southern Davao city, where he was a longtime mayor.
He has faced criticism for his brutal crackdown on illegal drugs that has left thousands of mostly poor suspected drug users dead.
Source  aljazeera.com