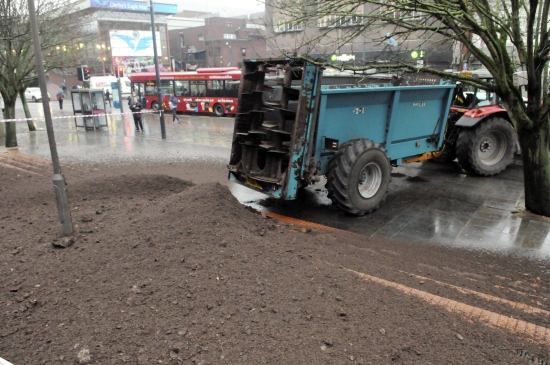 A farmer has been arrested after unloading his dump truck full of muck on Derby Crown Court to protest against the 'flawed' and 'terrible' legal system. Farmer Charles Hirons, 49, fired tonnes of manure on the court steps that took three hours to clean up. Mr Hirons said his one-man protest on Tuesday morning was sparked by a legal dispute lasting years.
He said he was left tens of thousands of pounds out of pocket when a solicitors' practice suddenly closed down. He said he has been trying to get recompense since but has had no joy.
'Sorry for any inconvenience'
A printed cardboard sign in the window of the red Massey Ferguson tractor read: "What a shame to have to resort to this, today is a personal protest against the severely flawed judicial system that has consistently failed to listen to simple truth and reason.
"Sorry for any inconvenience cause (to the general public)," the sign read.
Mr Hirons, of Draycott, said he taped off the area he was going to spray, and warned the public to stay back: "My first thought was people's safety," he said. "People are being let down in this country. People are being ignored, people who are the backbone of the city."
"I was the working man making myself heard. The legal system is failing miserably. The justice system has constantly let me down. I have been fighting a war against them for years."
Following the solicitors' closure, more than 35 clients were left in limbo, including many who had employed the firm to draw up house deeds and trust funds.
Source:  farminguk.com