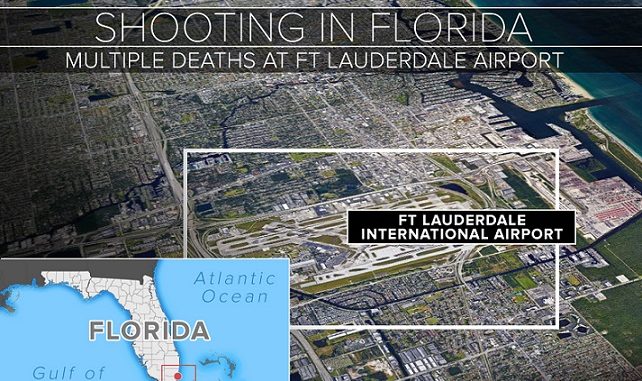 Five people have been shot dead by a gunman at Fort Lauderdale airport in Florida, say officials.
It happened at the baggage claim area in Terminal 2, just before 1300 local time (1800 GMT), the airport confirmed.
Five people were killed, eight injured and one person was unharmed in custody, said police and local officials.
Hundreds of people were standing on the tarmac outside the terminal as dozens of police cars and ambulances rushed to the scene.
One of the first reports of the incident came from former White House Press Secretary Ari Fleischer, who said in a tweet: "I'm at the Ft. Lauderdale Airport. Shots have been fired. Everyone is running."
A witness told MSNBC that the gunman was a "slender man' who was wearing a Star Wars T-shirt.
The gunman, who appeared to be in his 20s, did not speak before or during the attack, John Schlicher said.
He added that his mother-in-law administered first aid to someone who had been shot in the head.
Florida Senator Bill Nelson told US media that the gunman has been identified as Esteban Santiago, but that has not been confirmed by law enforcement.
A man in handcuffs was seen being escorted away from the airport by police nearly two hours after the shooting was first reported.
Mobile phone footage from the scene showed police officers frisking passengers and uniformed Transportation Security Administration (TSA) officers.
A Miami TV station tweeted footage claiming to be filmed from inside the baggage terminal.
The video shows several injured people laying on the floor, as witnesses shout for medical help.
The gunman was arrested without any shots fired, said Sheriff Scott Israel.
"People were scared and frantically running to avoid being shot. People were tripping over each other. They were trying to make a fast exit out of the door."
Florida Governor Rick Scott is travelling to the airport to be briefed by police.
Federal aviation authorities issued a "ground stop" notice, barring flights from leaving or entering the airport.
President-elect Donald Trump tweeted that he is "monitoring the terrible situation in Florida" and that he has spoken to the Florida governor.
"Thoughts and prayers for all. Stay safe!" he added.
Fort Lauderdale is a major tourist hub in the greater Miami area.
Nearby Miami International Airport announced that "extra security measures" have been put in place "out of an abundance of caution".
Source: bbc.co.uk