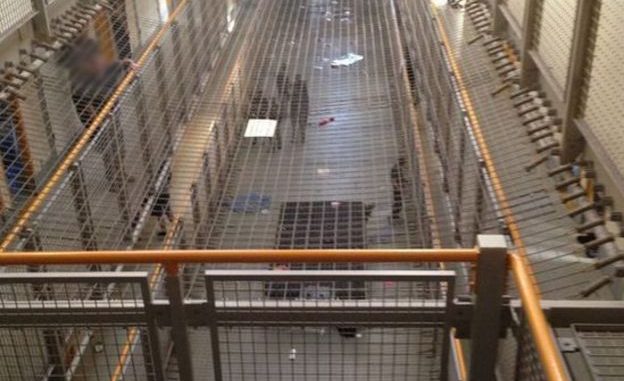 BIRMINGHAM – A riot involving hundreds of inmates has broken out at a prison after keys were reportedly taken from a member of staff.
Trouble flared at privately-run HMP Birmingham after a prison officer was "rushed" by inmates.
Specialist Tornado riot teams have been dispatched to the category B jail, which houses 1,450 prisoners.
G4S said the Prison Service had taken over the response due to the scale of the incident.
Unverified photos purporting to show scenes from the disturbance have been circulated on social media.
In one picture, two men can be seen wearing riot helmets and gesturing towards the camera.
Officers initially withdrew from two wings – which included some administrative offices – on Friday morning. G4S confirmed the incident later spread to two further wings.
Jerry Petherick, managing director for G4S custodial and detention services, said West Midlands Police helicopter was also in attendance.
West Midlands Ambulance Service was called to the site in Winson Green Road at about 12:25 GMT and at least four ambulances are at the scene.
It is understood the disturbance centres on wings N and P, which hold 250 prisoners, and both have been sealed off. All staff are accounted for.
Alex Cavendish, a former prisoner who is now a prison and crime affairs academic, said trouble flared when lights were broken and inmates took control of fire hoses.
Officers then started locking prisoners in their cells, but one officer was threatened with a used syringe and another prisoner "came up behind him and snatched the keys from his belt".
Staff then "withdraw to a place of safety", abandoning the wing, as they are directed to do in such situations.
He described the incident as "probably most serious riot in a B category prison since Strangeways went up" in 1990.
He said he was getting reports of one badly injured prisoner, inmates getting into the offender management unit (OMU) and destroying records and the prison gym being invaded.
West Midlands Police quashed rumours that offenders had keys giving access to residential areas and that offenders had occupied some blocks and exercise facilities.
"No keys to perimeter access points were taken," a spokesman said.
About 15 people carrying kit bags and wearing G4S boiler suits were seen going into the the prison on Friday afternoon.
All prisoners who are not on the affected wings are believed to be back in their cells, with prison staff awaiting reinforcements before taking control of the other wings.
A G4S spokeswoman said: "We are responding to an ongoing incident at HMP Birmingham this morning which began just after 09:00 GMT involving two wings of the prison.
"We are in close contact with the National Offender Management Service, and are working with colleagues across the service to bring the incident to a safe conclusion."
A spokesman for the Prison Officers Association (POA) said no staff injuries had been reported.
He said the incident "is another stark warning to the Ministry of Justice [MoJ] that the service is in crisis".
Source bbc