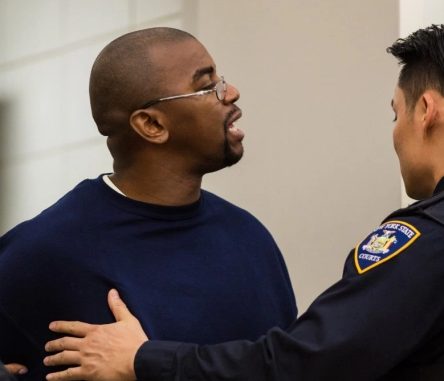 A brawl almost broke out in a Brooklyn courtroom Thursday as a suspect in the gruesome 2004 murder of a 17-year-old girl was led into the hearing — and the victim's enraged kin tried to attack him.
"You put your hands on my family, you piece of sh-t!" an unidentified relative of victim Sharabia Thomas yelled as he jumped up and lunged at accused murderer Kwauhuru Govan amidst the hisses and screams of those surrounding him.
Govan, 38, screamed back, "You got the wrong person!" as he was shuffled by in a blue sweatsuit and cuffs.
Thomas was last seen by her younger sister, Rachel, on Feb. 11, 2004, as Rachel left for school. Thomas's naked body was found hours later abandoned in a Bushwick alley, bent and stuffed into a laundry bag.
She had been strangled and bore ligature marks on her wrists and ankles. Though she was naked, there was no evidence of sexual assault.
Govan was arrested after the NYPD's Cold Case Squad and the DA's Forensic Science Unit sought out and re-tested the victim's 12-year-old fingernail clippings — and allegedly found traces of the suspect's DNA under them.
Their findings led them to Govan, who was serving time in a Florida prison for armed robbery. In 2004, he lived just two blocks from Thomas's family home.
Thomas's distraught family packed the pews of Brooklyn Supreme Court Thursday to see her alleged killer.
Rachel's eyes welled, and she grasped hands with the person next to her as the family exploded around her.
Govan pleaded "not guilty" to charges of second-degree murder and first-degree kidnapping, and was ordered held without bail.
He will return to court Jan. 6.
Thomas's family broke out in applause as Govan was led back into the pens, prompting him to shout, ""I'm innocent! I've been framed! I did not do this!"
"Yes, you did! Yes, you did, you piece of s-t!" the same relative yelled as the door slammed shut behind him.
Defense lawyer Fred Spiegel said, "DNA is not infallible" as he left court.
A man who identified himself as Thomas's uncle said, "I just wanna say that after 12 years, i'm glad someone is gonna pay the price for what happened to my niece.
"People don't framed by DNA," he added as Rachel, who declined to comment, cried silently next to him. "I don't have words, just anger."