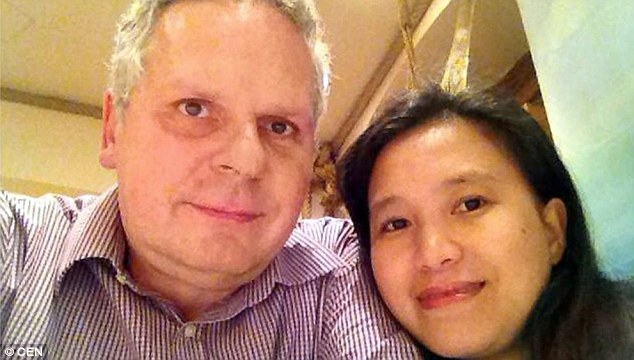 BAVARIA – German Horst Koenig, 53, bludgeoned his Filipino wife Grace, 37, with a hammer when she was fast asleep in bed. He then sliced her body with a reciprocating saw and hid her body parts into a rented warehouse locker before jetting off to Thailand for an 'exciting' getaway.
District Judge Christoph Wiesner in Augsburg, Bavaria announced his guilty verdict saying, 'Such a motive is shocking for the court' and that the crime was 'particularly callous' and sentenced Koenig to life in prison.
Koenig previously admitted he killed his wife of ten years and cleared out her bank account so he could enjoy a 'booze and hookers' holiday in the far east.  In court, he gave details of his plan, "I had check lists made, I worked it all out".
Prosecutors said Grace had endured a marriage filled with his infidelity. Koenig wanted to take a sex holiday but knew she would 'have to be out of the way", the court heard.
He leased a warehouse where he installed a computer to research how to kill a person and a subsequent police search of the computer showed searches for 'how to prevent decay' in a corpse and visits to anatomy sites.
Nine days later he bought a 5lb hammer and duct tape. Then, after a couple of days, while Grace was asleep in bed, he whacked her on the temple and then slipped a plastic bag over her head, leading to her death by suffocation.
The following day, he bought industrial strength rubbish sacks and construction foam used to seal windows and doorframes. Then he went to his local travel agents to buy the tickets for his Thailand trip. He packed his bags and then using a reciprocating saw sliced her body into eight parts and stuffed them into the plastic bags.
The day after, he went back to his secret computer in the warehouse and tapped into a search engine, 'When does a body begin to smell?'  Having found the answer he returned home and smothered all the body parts with the construction foam and brought them to the warehouse.
Before he flew to Thailand the next day he typed e-mails to friends and family members of Grace saying she had left him to return to the Philippines 'but that I will win her back.'
In Pattaya he met up with a woman who offered him the excitement he craved. However, after five weeks, when his money was spent on Thai prostitutes and his visa had expired, Koenig returned to Germany where he was arrested.
Even though the German computer expert was sentenced to life imprisonment, he may be eligible for early release when he is 74 years old under German law.