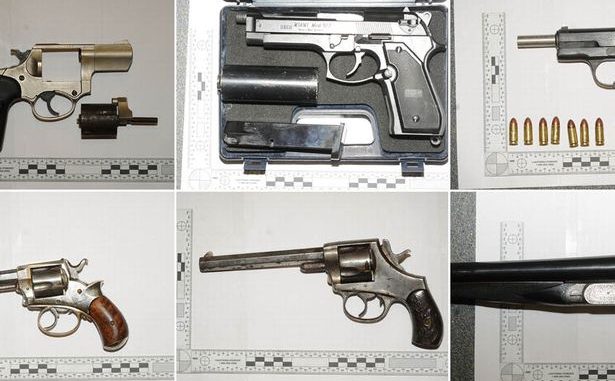 A three-year undercover operation has resulted in more than 20 members of Salford crime families being convicted of guns and drug trafficking.
Those convicted include three generations from one family including a 77-year-old grandfather.
A GMP officer infiltrated gangsters between 2012 and 2015 to gather crucial evidence.
Operation Damson has resulted in 78 convictions, including 12 people being convicted of firearm trafficking offences.
Seven firearms were recovered, including a James-Bond style pen gun, plus Class A, B, and C drugs, and a drugs press.
The intelligence provided by the officer resulted in 200 officers carrying out dawn raids on September 9 last year across the city in a major crackdown on organised crime. Most of the raids were in the Broughton area.
Sentencing will start today of 19 people at Manchester Crown Court after a lengthy trial which was held behind closed doors. A judge had imposed reporting restrictions on the case until sentencing.
Chief Constable Ian Hopkins said "Rest assured this is not a one-off, this is a sustained campaign to protect vulnerable people and bring those who exploit them to justice. We have not, and will not, reduce our commitment to targeting serious organised crime in Salford."
"We will continue to use all of the powers and information available to us and our partners to locate this criminality and put a stop to it for good."