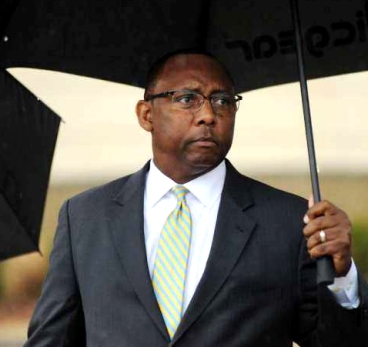 Former Mississippi Department of Corrections Commissioner Chris Epps has been arrested by the Flowood Police Department.
As part of a guilty plea to bribery charges Epps forfeited his old home to the government.  He was arrest for allegedly removing light fixtures from the home.  Police Chief Richie McCluskey said Epps, 55, is charged with burglary of an uninhabited dwelling.
Epps is on a $25,000 unsecured bond in a federal case having been accused of running one of the largest and longest criminal conspiracies in state government history. He allegedly took at least $1.4 million in bribes and kickbacks over eight years to steer more than $800 million of state prison contracts.
McCluskey said if convicted of the burglary charge, Epps faces a maximum 25 years in prison – longer than the maximum 23 years he faces in the federal bribery case.
Epps was indicted on 49 federal charges including bribery, money laundering, conspiracy and tax evasion.  He has pleaded guilty to a bribery count and a tax count.
Chris Epps agreed to forfeit approximately $1 million in investment and bank accounts, his Flowood home, a condo on the Mississippi Gulf Coast and two Mercedes-Benz vehicles – as part of a plea deal.  He also agreed never to seek public office or be employed in any public-sector job.