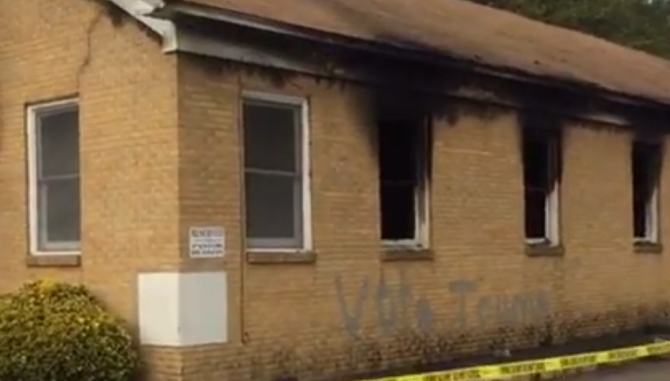 The Associated Press reports the Federal Bureau of Investigation has launched a civil rights investigation into the arson and vandalism of the Hopewell Missionary Baptist Church (a black church) in Greenville, Miss.   As well as fire damage, someone spray-painted "Vote Trump" on the side of the damaged building.  Approximately 80% of church was destroyed in the blaze.  The church, which serves about 200 parishioners, has existed for 111 years.
Greenville Mayor Errick Simmons said, "we consider it a hate crime, because of the political message which we believe was intended to interfere with worship and intimidate voters."
FBI spokesperson Brett Car had said that it was still too early to determine whether the blaze should be investigated as a possible hate crime. Police Chief Delando Wilson said that currently there is no suspect in the case, however authorities are possibly talking to a person of interest.
Democratic U.S. Rep. Bennie Thompson, whose district includes Greenville said that the fire and the vandalism "harkens back to a much darker day in Mississippi. The political message of the vandalism is obviously an attempt to sway public opinion regarding the upcoming election. I encourage all citizens not to be deterred by this cowardly act and exercise your right to vote at the ballot box."
Republican Gov., Phil Bryant, also slammed the attack, saying "we expect a suspect will be identified and brought to justice. First, anyone who burns a place of worship will answer to almighty God for this crime against people of faith. But they should also answer to man's law."
Secretary of State Delbert Hoseman,  Rep., Mississippi's top elections official, asked people not to jump to conclusions in assuming that the church was vandalized for political reasons, saying that initial reports suggest "this is not of a political nature."
Pastor Carilyn Hudson said. "the act that has happened has left our hearts broken but we are strong together, we are not angry, but our hearts are broken."
The Donald Trump campaign released a statement saying, "We are deeply saddened for the members of the Hopewell M.B. Church community and condemn in the strongest terms this terrible act that has no place in our society. We are grateful that no one was hurt and we urge witnesses with any information to come forward and help bring justice to those who are responsible."
An $11,000 reward is being offered for information leading to the arrest and conviction of the alleged arsonist.
About 78% of Greenville's 32,100 residents are African American.