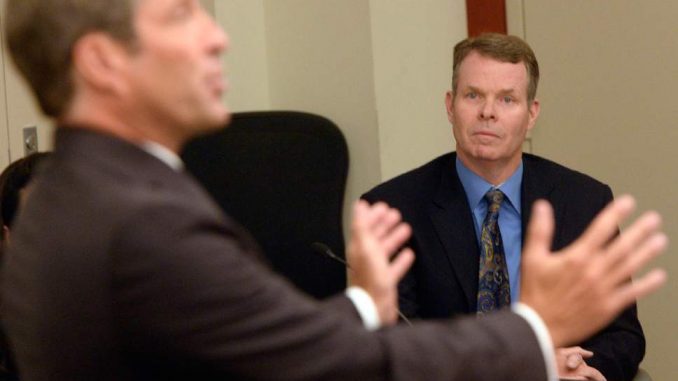 According to former Utah Attorney General John Swallow's attorney, the judge should toss out some the criminal charges brought against his client because investigators and prosecutors have either destroyed or lost a recorded interview with a key witness in his case.
The interview with St. George businessman Jeremy Johnson may contain information that could exonerate Swallow of racketeering, bribery, money laundering and gift charges, and is critical to the ex-GOP officeholder's defense, his attorney, Scott C. Williams argued in documents filed Tuesday in 3rd District Court. "The claims made by Mr. Johnson form the very bedrock of the entire case pending against Mr. Swallow.  Without access to a tape recording that, according to Mr. Johnson himself, likely contains exculpatory material, Mr. Swallow is deprived of a full and fair opportunity to mount his defense and attack the state's case."
The filing is third in the past week to ask 3rd District Judge Elizabeth Hruby-Mills to dismiss all or part of the 14 felony and misdemeanor charges filed against Swallow.
He has pleaded not guilty to all counts and is scheduled for a trial in February. If convicted, Swallow could spend up to 30 years in prison.
Tuesday's filing seeks the specific dismissal of four counts tied to Swallow's relationship with Johnson, a former internet marketer now serving a federal prison sentence after being convicted of lying to a bank.
In 2010, Johnson claims he sought help from Swallow making connections to then-Senate Majority Leader Harry Reid, D-Nev., whom Johnson hoped could thwart a Federal Trade Commission investigation of his company, I Works.  Johnson then paid $250,000 to Swallow's friend and former employer, Richard Rawle, the now late owner of the payday lending company, Check City, who reportedly had access to Reid.  Despite the effort, the FTC brought a civil action against Johnson and federal prosecutors charged him with criminal fraud.
Court papers say Johnson and his defense attorney then deployed a strategy of "orchestrated circumstances" designed to frighten Swallow — at the time a candidate for attorney general — "into believing Mr. Johnson would raise issues that might hurt his campaign — particularly the circumstances surrounding the failed attempt to lobby Sen. Reid.  That included recording meetings between Johnson and Swallow that were scripted by Johnson's attorney and secretly recorded, according to the documents. In hopes of brokering a plea agreement or leniency for himself, Johnson then gave hours of detailed interviews with state investigators working on a case against Swallow.  In all, Johnson did four recorded interviews with investigators in 2013, one of which was recorded by his defense attorneys.  Only three of the recordings have been provided to Swallow's current defense team. However, the recording of the first — and arguably the most important — interview has never been provided."
Now, neither Johnson's then-attorneys, nor investigators, who had taken the recording from them in October 2013, appear to have it, and Salt Lake County prosecutors have told Williams it is "not available."
"The circumstances of the missing recording are highly suspicious — especially considering its great importance … " Williams wrote. "This conduct should weigh heavily against the state and favor the relief sought by Mr. Swallow."
In addition, the filing includes an affidavit from Johnson which states that an investigator's report that includes a summary of the recorded first-intervew is incomplete and contains misstatements and material omissions.
Separately, Swallow has asked a judge to toss out the bribery charges filed against him on the basis of a U.S. Supreme Court ruling that narrows the scope of public corruptions charges.