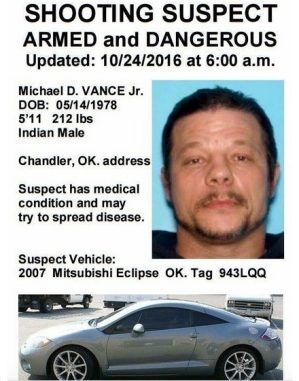 Michael Vance was killed Sunday night near Butler, Oklahoma.   Dewey County Sheriff Clay Sander was shot in the arm by Vance, but his injury is said to be non-life-threatening.
Vance had been on the run from law officers since Oct. 23, leading to a statewide manhunt.  Sunday marked day eight in the search for Vance.
Several law enforcement agencies were involved in the manhunt and had been in the area investigating a possible sighting earlier in the day.  The Ellis County Sheriff's Office, and other law enforcement agencies assisted in the hunt.
Vance is accused of killing two relatives in Luther and shooting multiple people including two Wellston police officers in Lincoln County.