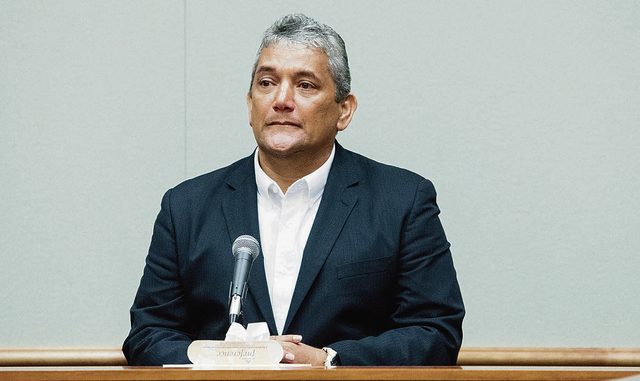 Hawaii County Mayor Billy Kenoi told jurors during his felony theft trial that he used his government-issued credit card for personal purchases, but denied that he tried to steal public funds.
Kenoi faces five criminal charges, including four counts of theft and one count of making a false statement under oath.
Prosecutors say Kenoi used the county card for personal expenses, including multiple alcohol purchases, and he only reimbursed the county after media outlets brought attention to the issue.
State officials reported that Kenoi charged nearly $130,000 on his county purchasing card, and records indicate he has since reimbursed about $32,000.
Kenoi took the stand Wednesday during the second week of his trial on charges of theft and making a false statement under oath.
When asked by the defense whether it was his intent to permanently deprive the County of Hawai'i of its property, Kenoi answered "never, I would never do anything to hurt this island, this county. I'm offended of even being accused."
Kenoi defended many of the purchases in the indictment, including the ones related to alcohol. His defense team has argued that he purchased alcohol at various events to show his appreciation for people and build relationships to benefit the county.
"People gotta like you. People gotta want to help you. If people don't want to help you, they aren't going to help your community," Kenoi testified.
Kenoi acknowledged using the card to buy his nephew a $293 hotel stay as a wedding present and not repaying the money until 250 days after the purchase. The mayor also said he signed a receipt for a $600 bill at a Washington, D.C., restaurant. The bill only included alcohol, prosecutors said.
Kenoi said "You spend your life helping people. You know how it feels growing up without much. People laugh, tease," he said. "If I got an opportunity to help somebody make it better, that's how you do. It's Hawaii. It's a small town. Everybody knows each other. That's how that shaped me."
"My parents just taught me simple values. Me and my sisters were taught to be respectful, to treat everyone with aloha, and to look out for people less fortunate than yourself," said Kenoi. "My mom and dad didn't have much education, my dad only went to 8th grade. And so it was very important, education. We were all committed to working really hard as kids growing up in Hawaii."