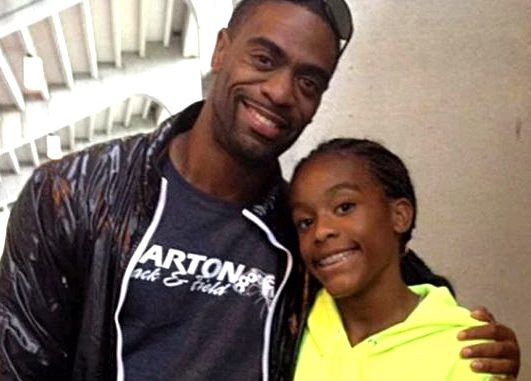 Police say former world champion sprinter Tyson Gay's 15-year-old daughter has been killed in a shooting.  Police in Lexington Kentucky said Trinity Gay was hit in the neck during an exchange of fire between vehicles in a restaurant lot.  She was taken to a hospital where she later died, according to local media.
Mr Gay, from Lexington, confirmed her death:  "She didn't make it. I'm so confused. She was just here last week for fall break. It's so crazy. I have no idea what happened."
Police have arrested 3 men and they have been charged with wanton endangerment.
Those charged are:  Chazerae M. Taylor, 38, D'markeo C. Taylor, 19, and Dvonta Middlebrooks, 21.   Middlebrooks also faces possession of a firearm by a convicted felon charge, police said.
Mr Gay represented the US at the Rio Olympics, he's the US 100 meter record holder and is the joint second-fastest 100 meter runner of all time, behind Usain Bolt.
Mr Gay's daughter was an athlete and competed for Lafayette High School, where she was studying.
UPDATE:
Three men have pleaded not guilty and face an Oct. 25 court date on charges connected to the shooting death of Olympic sprinter Tyson Gay's 15-year-old daughter.
The three appeared Monday via video before Fayette County, Kentucky, District Court Judge T. Bruce Bell, who will assign attorneys for them.
Bell set bail at $5,000 each for 38-year-old Chazerae Taylor and his son, 19-year-old D'Markeo Taylor, on wanton endangerment charges. Twenty-one-year-old Dvonta Middlebrooks is charged with wanton endangerment and possession of a firearm by a convicted felon. His bail was set at $12,500.
Lexington police say Middlebrooks was in the parking lot of the Cook Out restaurant and fired multiple shots in the incident in which Trinity Gay was killed early Sunday. Court records show the Taylors admitted also firing shots.
Police say they've also found two vehicles involved.