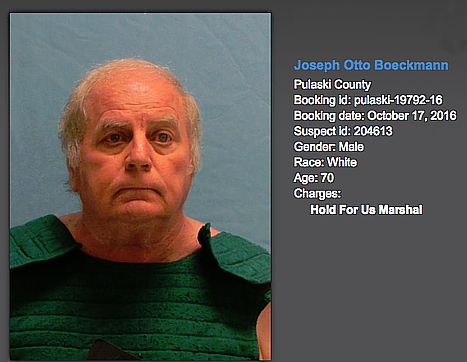 A former Arkansas judge accused of inappropriate sexual relationships with defendants was indicted on Monday on federal fraud and bribery charges.
Dozens of the defendants have accused former judge Joseph Boeckmann of sexual abuse and misconduct.  The defendants say the small-town judge allowed him to spank their naked buttocks with a paddle and to take photos of the red skin for pay.  Others say they posed nude in exchange for money to pay off court fines.  Allegedly, he had over 4,600 photos of nude or semi-nude men.  Other victims, some underage, say instead of fines – in exchange for posing for semi-nude photos – they were offered community service.
A grand jury accused Joseph Boeckmann of using his position: "to obtain personal services, sexual contact and the opportunity to view and to photograph in compromising positions person who appeared before him in traffic and misdemeanor criminal cases in exchange for dismissing the cases."
Boeckmann pleaded not guilty at an arraignment Monday after the Oct. 5 indictment was unsealed.  He was indicted on eight counts of wire fraud, one count of federal program bribery, two counts of witness tampering and 10 counts of violating the federal Travel Act.