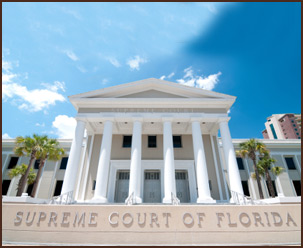 Florida's new death penalty sentencing statute – to the extent that it allows juries to recommend death on a vote of 10-2 — is unconstitutional, the Florida Supreme Court ruled in a pair of cases on Friday.
The Florida Supreme Court ruled that State Legislature fumbled a re-write of the state's death penalty statute earlier this year, meaning that Florida currently has no death penalty.
The court also ruled that Timothy Lee Hurst, the man whose death penalty prompted the U.S. Supreme Court earlier this year to declare Florida's death penalty unconstitutional, was so badly harmed, he must be given a new sentencing hearing, the Orlando Sentinel reported.
Those two rulings, released at the same time this morning, were a blow not just to the Florida Legislature but also to Attorney General Pam Bondi, who had argued that the error identified by the U.S. Supreme Court was harmless.
"[W]e hold that the Supreme Court's decision in Hurst v. Florida requires that all the critical findings necessary before the trial court may consider imposing a sentence of death must be found unanimously by the jury," the court ruled in Hurst's case.
This, the court explained, included not just the existence of aggravating circumstances during the sentencing phase of a capital case, but also the sufficiency of those aggravating circumstances and the finding that those aggravating factors outweigh any mitigating circumstances.
Going further still, the court held that, "based on Florida's requirement for unanimity in jury verdicts, and under the Eighth Amendment to the United States Constitution, that in order for the trial court to impose a sentence of death, the jury's recommended sentence of death must be unanimous." The court went on to hold that the Eighth Amendment's ban on cruel and unusual punishment also requires unanimity in sentencing recommendations of a jury.
Because Florida's new statute allows a 10-2 vote for the recommendation of death, the court held, the law is not constitutional.
In Larry Darnell Perry's case, the court summarized it as such: "While most of the Act can be construed constitutionally under our holding in Hurst, the Act's 10-2 jury recommendation requirement renders the Act unconstitutional."