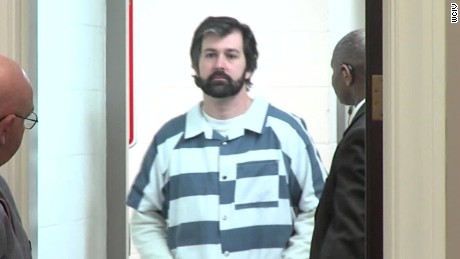 Ex-North Charleston, South Carolina police officer Michael Slager's trial for the murder of Walter Scott, 50, an unarmed man in South Carolina, is set to begin Oct. 31 in the courtroom of Circuit Judge Clifton Newman.
Slager, 34, faces a single count of murder in state court.  Federal charges including violation of Scott's civil rights will be tried next year.
Dash cam video of the traffic stop shows Slager approaching Scott in the vehicle and asking Scott for his license and insurance information, then returning to his vehicle.  Thirty seconds later, Scott opens the door and turns toward Slager, who tells Scott to stay in the car.  About 20 seconds later, Scott again opens the door and begins running away.  Slager pursues him on foot.
What happened in the next minute or so was not captured on video, but an audio device captures Slager ordering Scott to stop, then shouting "Taser, taser, taser".  Slager's then-attorney told the media 4 days after the shooting that Scott attacked Slager and grabbed his taser after he used it on Scott, which caused Slager to feel threatened.   The physical confrontation between Scott and Slager, if there was one, was not captured on video, but what happened a few seconds later was captured by Feidin Santana on his cell phone.  Watch the video:
The next officer on scene and radioed that Scott suffered gunshot wounds to the chest, thighs and buttocks.
The coroner's report contradicted this, stating that Walter Scott died as a result of multiple gunshot wounds to the back, and ruled his death a homicide.
In the state case, Slager's lawyers have filed a flurry of pre-trial motions in the weeks leading up to trial, including a request for a change of venue and non-sequestration of the jury.  Perhaps more significantly, the defense attorneys have accused the South Carolina Law Enforcement Division, who assumed the role of primary investigators, of misconduct, asking Judge Newman to exclude evidence and statements which they argue were obtained by deception.
In an almost unprecedented move, Judge Newman close the courtroom to hear testimony from attorneys.
The defense have also alleged the prosecution has encouraged Santana, who they believe to be out of the country, to remain outside the jurisdiction of the Court until trial begins, thus not allowing Santana to be interviewed by the defense.  A native of Dominican Republic, Santana's immigration/citizen status is not clear.
The trial is scheduled to begin October 31, 2016.  If it is streamed, Worldjusticenews.com will have it!