US TV star Danny Masterson has been found guilty of two counts of rape.
The actor, 47, faced accusations by three women that he raped them at his home in Hollywood Hills between 2001 and 2003.
At the time, Masterson was at the height of his fame – starring alongside Ashton Kutcher and Mila Kunis in the hit US sitcom That '70s Show.
Two of the women, who knew Masterson through the Church of Scientology, claimed the actor drugged them before the sex attacks.
A third woman, a former girlfriend of Masterson, and also part of the Church of Scientology, alleged that she was raped by the TV star during the course of their relationship.
The actor denied the allegations, claiming the sex was consensual.
Lawyers for Masterson – who was not charged with any drugging offences – also told the jury that there was no toxicology evidence to back up the spiking claims.
On Wednesday, at a court in Los Angeles, the actor was found guilty of two counts of rape by a jury, on a majority verdict of 8-4.
The jury could not reach a verdict in the third count, relating to the allegations made by Masterson's former girlfriend.
Masterson, who was led away from the court in handcuffs after the verdicts, could face 30 years to life in prison.
His wife, actor and model Bijou Phillips, wept as he was led away.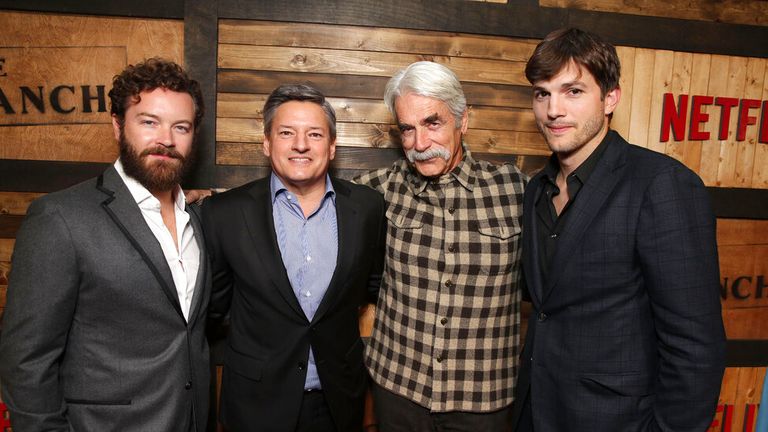 The verdicts come after Masterson faced a retrial over the allegations. The previous trial ended in December with the jury unable to reach a verdict.
The trial heard that Masterson met all three of his victims through the Church of Scientology.
Prosecutors in the case alleged that Masterson raped the women and then used his prominence in the church to avoid consequences for decades.
The women testified that when they reported Masterson to church officials, they were told they were not raped, were put through ethics programs, and warned against going to law enforcement to report a member of such high standing.
"They were raped, they were punished for it, and they were retaliated against," deputy district attorney Reinhold Mueller told jurors in his closing argument.
"Scientology told them there's no justice for them. You have the opportunity to show them there is justice."
Judge Charlaine Olmedo allowed expert evidence on church policy from a former official in Scientology who has since become a prominent opponent.
The church strongly denied having any policy that forbids members from going to secular authorities.
Masterson did not give evidence during the trial, and his lawyers called no witnesses.
His lawyers argued that the acts were consensual and attempted to discredit the women's allegations by highlighting changes and inconsistencies in their accounts over time.
A spokesperson for Masterson declined to comment to the Associated Press (AP) following the verdict, but the news agency reported that his lawyers are likely to appeal against the convictions.
Source:  
news.sky.com