Prime Minister Boris Johnson and Chancellor Rishi Sunak will be fined by the police for breaking lockdown laws.
The PM's wife, Carrie Johnson, will also be given a fixed penalty notice.
Officials confirmed the three had received notification of the fines from the Met, following an investigation into illegal parties in Downing Street during Covid lockdowns.
Spokespeople for the Johnsons and Mr Sunak said they had not been told which event the fines were linked to.
However, the three were reported to be at the same gathering for the PM's birthday in June 2020.
Mr Johnson is the first serving prime minister of the UK to be sanctioned for breaking the law.
Labour leader Sir Keir Starmer and Scotland's First Minister Nicola Sturgeon said the PM and Mr Sunak must resign.
And the Covid 19 Bereaved Families for Justice group said there was "simply no way either the prime minister or chancellor can continue".
But Scottish Tory leader Douglas Ross – who at one stage had called for the PM's resignation over the parties – said "it wouldn't be right" for Mr Johnson to go while there was war in Ukraine.
The Met is investigating alleged Covid law-breaking at 12 gatherings in Whitehall and Downing Street.
So far, more than 50 fines have been handed out, with more expected.
A spokeswoman for the Covid Bereaved Families, Lobby Akinnola, said it was "unbelievably painful" to know such senior members of government attended parties while they were unable to be with their dying loved ones.
He added: "The fact that the prime minister and his chancellor then lied about it, and would have continued to do so if the police hadn't intervened, is truly shameless.
"They broke the law. But even worse, they took us all for mugs."
Labour's Sir Keir said the fines for the PM and chancellor showed the Conservatives were "totally unfit to govern", adding: "Britain deserves better.
"Boris Johnson and Rishi Sunak have broken the law and repeatedly lied to the British public. They must both resign."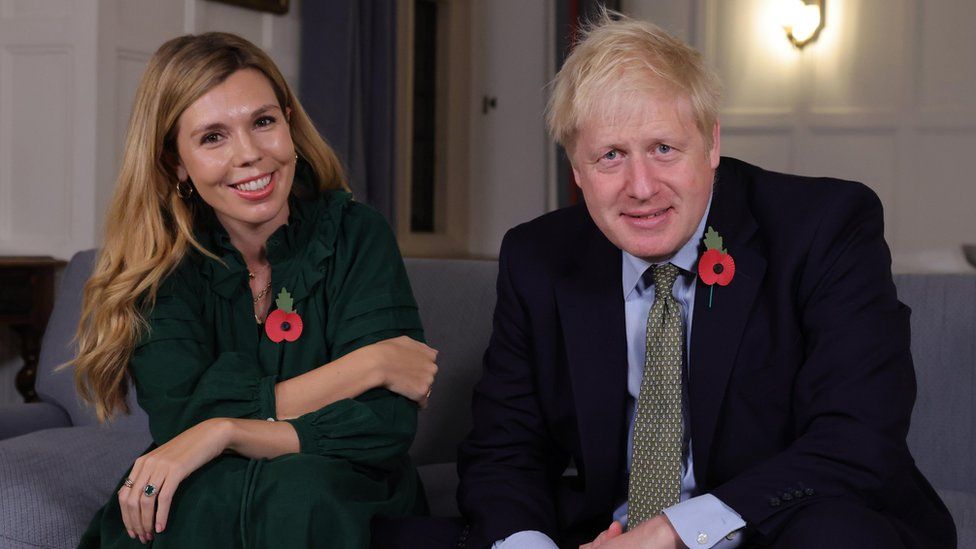 The Green Party echoed the call, with co-leader Adrian Ramsay saying the fines were "a damning indictment of the reckless culture of a Conservative Party and prime minister that consider themselves untouchable".
And Liberal Democrat leader Sir Ed Davey called for Parliament – which is currently on its Easter recess – to be recalled to hold a no confidence vote in the prime minister.
A handful of Tory MPs have also reacted to the news, with backbencher Darren Henry calling for a "public apology" from Mr Johnson and Mr Sunak.
But Mr Ross said: "The public are rightly furious at what happened in Downing Street during the pandemic. I understand why they are angry and share their fury. The behaviour was unacceptable. "[But removing the PM] would destabilise the UK government when we need to be united in the face of Russian aggression and the murdering of innocent Ukrainians."
Reports of parties being held in Downing Street during Covid lockdowns in 2020 and 2021 first emerged in December last year.
Mr Johnson initially insisted that "guidelines were followed at all times".
As more gatherings were revealed, the prime minister apologised for attending a drinks party in the Downing Street garden, but told Parliament he believed he had been attending a work event.
Mr Sunak was also asked in the Commons, in December 2021, if he had attended Christmas parties said to have taken place the previous year.
He replied: "No, I did not attend any parties."
Mr Johnson ordered an inquiry into the allegations of rule-breaking, led by senior civil servant Sue Gray.
The Met initially said it would not retrospectively investigate the allegations unless "significant evidence" of a regulation breach came forward.
But after Ms Gray passed information to officers, they launched their own inquiry.
Ms Gray released an interim report, stating there had been a "failure of leadership" in Downing Street.
But her full report will not be released until the Met have concluded their investigation.
Among those already issued fines is the government's former head of ethics Helen MacNamara, who received a fixed-penalty notice for attending a leaving party in the Cabinet Office in June 2020.
Ms MacNamara – who is now the Premier League's director of policy – said she apologised for "the error of judgement I have shown".
Sources have told the BBC that some fines had been given to people who attended a leaving party in Downing Street on 16 April 2021 – the eve of Prince Philip's funeral.
Those who receive fines can either pay within 28 days or contest the police decision.
If they contest the fine, police will review the case and then either withdraw the penalty or take the matter to court. Fixed penalty notices for breaking Covid laws do not result in a criminal record.
Will the PM and chancellor resign?

Will Boris Johnson and Rishi Sunak resign over breaking the law or will they able to ride the controversy out?
If their instinct is to find a way through, they'll be helped by the fact that Parliament isn't sitting and Conservative MPs are less likely to get together and decide it's time for change at the top.
Both may choose to wait for Sue Gray to publish the findings of her report in full for the final word on the "partygate" saga.
They may also appeal against their fines or simply calculate that they can take the political hit and survive.
It's a time for cool heads and calculations in No 10 and 11 Downing Street – a day when reputations, already damaged, may be defined.
Source: bbc.co.uk