The mother and grandmother of an emaciated man who was allowed to "rot to death" have been convicted of his manslaughter.
Jordan Burling, 18, went into cardiac arrest in Leeds in 2016 and died weighing less than six stone (37kg).  Mother Dawn Cranston and grandmother Denise were both convicted after a trial at Leeds Crown Court.  Mr Burling's sister Abigail Burling, 25, was convicted of causing or allowing a vulnerable adult's death.  The jury cleared her of manslaughter, following more than two days of deliberations.
On the day Mr Burling died, paramedics found him wearing a soiled nappy and was lying in an unresponsive state on a makeshift bed in the living room of the house, the court was told.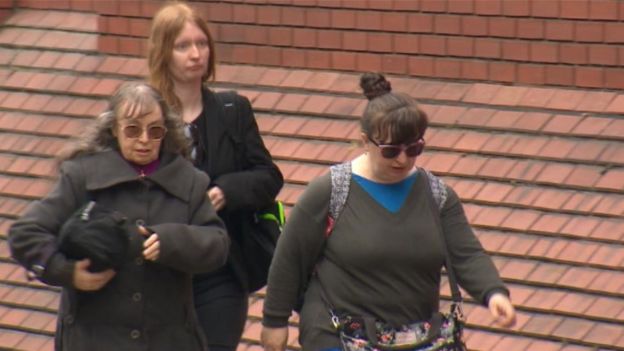 At the time he resembled a victim of a Second World War concentration camp, with an NHS dietician telling the court he had the lowest body mass index she had ever seen.  Mr Burling had lived in Butterbowl Garth, Farnley with Ms Cranston, 45, Mrs Cranston, 70 and Jordan's uncle, with his sister living a short distance away in Cow Close Road.
It was estimated he had been malnourished for at least six months before he died, having developed bed sores so deep they left bone exposed.  Paramedic Bridget Shepherd, who treated Mr Burling, said looked "very, very pale and very emaciated" when she first arrived on 30 June 2016, the day he died.  A post-mortem examination found he died from acute bronchopneumonia, resulting from his malnutrition, his immobility and his infected sores.
The trial heard from a neighbour, who said the family was considered "strange and reclusive" by locals.
PC Ben McNamara, who arrived at the home shortly after Mr Burling's death, told the court the first thing Dawn Cranston asked him was how much the funeral would cost.
"I was surprised by everyone's lack of emotion. It is a strange thing to say after he had just died," he said.
Source bbc.co.uk