A company boss who failed to safely operate a yacht on which four sailors were killed has been given a suspended prison sentence.
The crew of the Cheeki Rafiki died after the 40ft vessel lost its keel and capsized in the Atlantic in May 2014.
Douglas Innes, 43, and his business Stormforce Coaching Limited were found guilty of failing to operate the yacht in a safe manner.
He was given a 15-month jail term, suspended for two years.
At Winchester Crown Court, Stormforce Coaching Limited – which has since been put into liquidation – was fined £50,000.
Innes, of Southampton, had previously been cleared of four counts of manslaughter by gross negligence following a retrial.
The four men on board – skipper Andrew Bridge, 22, from Farnham in Surrey, James Male, 22, from Romsey in Hampshire, Steve Warren, 52, from Bridgwater in Somerset and Paul Goslin, 56, from West Camel in Somerset – were travelling back to the UK when the vessel lost its keel.
The crew's bodies were never found.
Sentencing, Mr Justice Nigel Teare told Innes that "cost-cutting" had led his actions.
He added: "The failure to have the yacht surveyed was a serious act of negligence.
"This was a small yacht about to cross the Atlantic alone having not been independently examined for over three years. Those circumstances give rise to a risk of death."
Mr Justice Teare called on the maritime regulatory authorities to tighten the rules governing the inspection of yachts.
He said that Innes was unaware of a fault with a bolt and that a survey of the vessel, which went missing more than 700 miles off the coast of Nova Scotia, may not have identified the problem.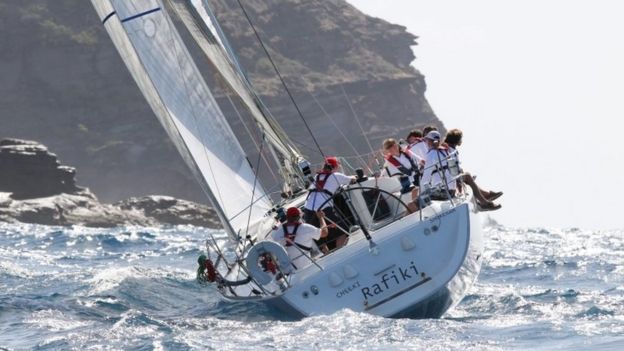 Reading an impact statement in court, Adele Miller fought back tears as she described her boyfriend James Male as "wise beyond his years".
"My life and my future has crumbled before me," she said. "Without him my life is less than incomplete."
A statement from Cressida Goslin, the widow of Paul Goslin, was read in court in which she said she had been left "lost, isolated and alone" by the tragedy.
"This accident and the loss of four loved and cherished men could so easily have been avoided," it said.
In mitigation, defence counsel told the court that Innes's life had been "shattered" following the loss of his "friends and colleagues".
"He genuinely and profoundly understands the pain [the families] have suffered."